We recently had the pleasure of speaking with Spencer Gordon, a recent Outward Bound graduate who completed the Patagonia to Florida and Blue Ridge Mountains Leadership Semester this past April.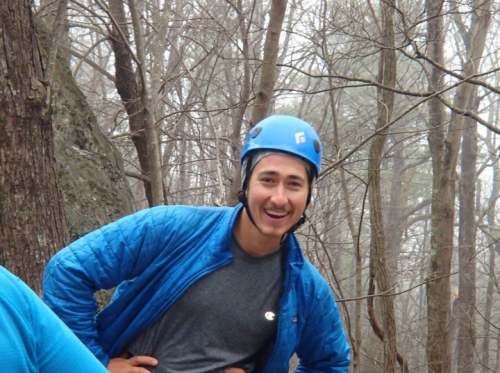 Spencer had decided to take a semester to study abroad while studying Outdoor Leadership at his university. At the behest of one of his professors, a former Outward Bound Instructor, he landed on an international semester program with Outward Bound.
I wanted to get a hands-on education to further my major and career.
At first, Spencer was interested in sharpening his personal leadership skills through observing his Instructors and adding to his previous experience with rock climbing and whitewater sports. However, Spencer got a lot more than he bargained for, in the best way possible.
The course provided me with the opportunity that I was really seeking. I needed to become a better leader with managing group dynamics, personal growth and [working through] the issues that make us uncomfortable.
Spencer not only used the course to sharpen his technical skills, but also his interpersonal skills.
Now I've experienced what it's like to say, 'I need to work on this,' and understand things better within myself.
Spencer's course began in Patagonia, where he first met the other 10 members of his crew. They started the course off with mountaineering; learning the skills needed to attempt a peak summit. Early on the Instructors set an open and welcoming tone for the group, allowing the students to open up and bond with each other, something that stuck with Spencer throughout the entire trip. This, along with the physical challenge of hiking through a glacier to the top of Mount Tronodore, served as one of the highlights of his 72-day course.
We could look back and see every stop along the way for days. It was a great sense of accomplishment that we did it together. It felt like we were prepared for the rest of the challenges that [might be] thrown at us.
The crew then flew to Florida for 20 days of canoeing in Everglades National Park. While canoeing through the swamp and mangrove islands in Southern Florida, Spencer relished in seeing the Roseate Spoonbill close up, calling it, "The most beautiful bird I've ever seen." The crew also had the chance to paddle through the Shark River Slough, the main aboveground water source for the western half of the Everglades.
Spencer and his crew then headed to the Blue Ridge Mountains for 30 days of backpacking and rock climbing. During this phase, Spencer backpacked through the wilderness of western North Carolina, traversing the famous profile of Grandfather Mountain and Mount Mitchell. During these three weeks, the crew tackled technical skills such as rock climbing and whitewater canoeing. While in the mountains, Spencer also enjoyed learning about the history behind the Cherokee and their connection with the French Broad and Tuckaseegee Rivers.
Throughout the course of the semester, Spencer gravitated towards the days where the crew participated in service projects. From removing non-native invasive plants at the Audubon Corkscrew Bird Sanctuary in Florida to river cleanup in the French Broad River in North Carolina, Spencer appreciated the sense of place this created on his Outward Bound journey.
I asked Spencer what stood out to him most on the trip, and he immediately replied, "The diversity of the group." Everyone was on a different level in terms of their own outdoor experience and what they wanted to get out of the trip. On some level, almost every student on course was wrestling with the question of, "What am I going to do with my life?" They felt comfortable sharing their story with the crew and letting Outward Bound become a part of that story.
When asked about the Instructors, Spencer appreciated their desire to be authentic and how driven they were by the mission: To change lives through challenge and discovery. In terms of their leadership style, the Instructors allowed everyone the opportunity to contribute their own leadership towards the group experience. In turn, crew members could grow deeper together and become more comfortable within the group. Not one person, including the Instructors, had to be the best leader.
When asked if he could offer a word of advice to anyone thinking about taking a international semester course, Spencer had this to say.
For every challenging situation, there's always something to learn. even if you have a background in a lot of the technical skills, it's best to approach it with an open mind. Everyone is giving what they have and that helps everyone else to receive.
As the interview came to a close, Spencer reflected on his overall journey, the diversity of his crew and the impact they had on him. Sure there was beautiful scenery, epic adventures and lots of aha moments, but the crew's ability to bond and share deeply acted as the cement for the entire trip. It was the beauty of this experience that helped prepare the crew for what would happen afterwards. As we say on course, the true journey begins when you go home.
---
For information about Outward Bound expeditions, or to learn about our rich selection of semester and gap year programs, go HERE, or call 866.467.7651 to reserve your spot on an expedition today.
Sign-up for our newsletter to keep up on course options, resources, and special offers.
About the Author
Shane Ambro is a Lead Instructor, River Staff and Course Director for Outward Bound. Shane grew up attending extended backpacking trips on the Appalachian Trail with his Boy Scout group, which fostered and nurtured his love for the outdoors. Before instructing with Outward Bound, Shane worked as a ropes course instructor, social worker, life coach, professional musician and copywriter. When he's not in the field he likes to play guitar, garden, run, paddle, connect with friends and drink lots of coffee.