May 29 is National 529 Plan Day.
Unfortunately, you probably won't get the day off from work.
However, in honor of the holiday, let's take a look at what a 529 Plan is and why you need one.
What is a 529 Plan?
A 529 Plan is an education tuition plan that is both tax-free on savings and investments. It is the most popular savings vehicle for college, grad school and medical school.
529 Plans come with many benefits.
Tax breaks are the most well-known advantage. Earnings are not subject to state or federal tax when used for a qualified education expense. Other investment options, such as mutual funds, are hit with a capital gains tax at withdrawal. This is not the case for 529 Plans, making them one of the best ways to save long-term for college.
Need another reason to open a 529 Plan?
Ok, I will let you in on a 529 little-known secret.
Both parents and students are happily surprised when I tell them that 529 Plans can often to be used to pay for a gap year.
What is a gap year?
A gap year is a life-changing year, typically taken between high school and college. Students often travel, volunteer and deepen their understanding of both themselves and the world they live in.
I know what you're thinking.
I am not British nor wealthy; I can't do a gap year.
That's not the case anymore. More and more American students are pursuing a gap year. In fact, a growing number of students are using funds they already have in their 529 Plans to pay for their gap year.
The most prestigious universities throughout the country are promoting gap year programs.
Malia Obama has deferred her admission to Harvard to pursue a gap year and she is certainly not alone. Harvard encourages their students to take a gap year. They are eager to defer admission to allow students to pursue a transformative gap year.
Students are listening, gap year programs are on the rise.
Harvard is hardly alone.
Tufts University, Princeton University, and the University of North Carolina – Chapel Hill have all developed their own service-based gap year programs.
At UNC, students in the Global Gap Year Fellowship are granted $7,500 to use towards a service-oriented gap year. Selected students have the leeway to design their own service-based initiative.
Princeton's Bridge Year is a nine-month gap year program that is tuition-free. Small groups of students perform service-based projects in five countries: China, Bolivia, India, Indonesia and Senegal.
Ok, now that you are day-dreaming about a globetrotting gap year, let me tell you how to pay for it.
Depending on the program, many gap year programs qualify for using 529 Plan funds. In addition to utilizing these funds, numerous gap year programs also offer scholarships and unique funding options.
Did you know Outward Bound provides gap year programs that qualify for using your 529 Plans?
Outward Bound Semester specialist, Jason Stout, highlights the value of gap year programs. "Gap year programs are a more holistic approach to education that better prepares a student for college and beyond. Imagine interviewing someone for a job who has a college education and has successfully completed a challenging 80-day wilderness expedition – it sets them apart."
Outward Bound's partnership with Western State Colorado University accepts 529 College Savings Plan through their Extended Studies program. Registration is not limited to current Western State Colorado University students; anyone can participate. You can check out more information here.
Your last name does not have to be Obama to partake in a life-altering gap year. A 529 Plan, along with scholarships and financial aid options, can help make that dream a reality.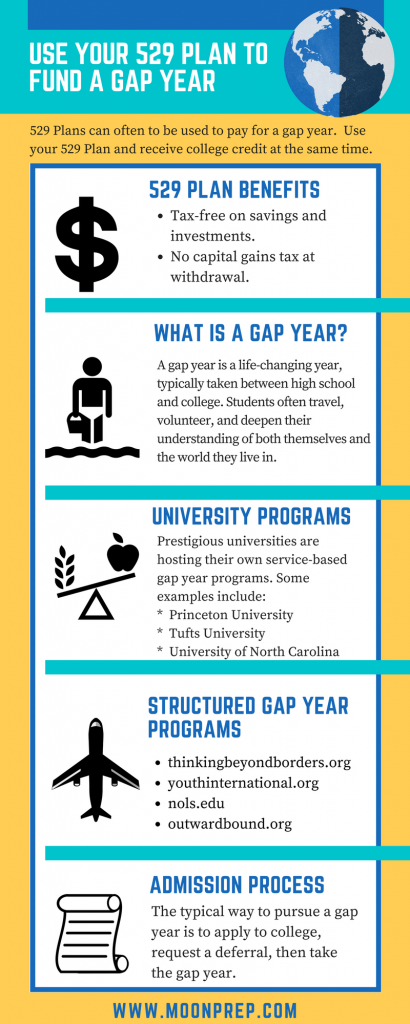 About the Author
Kristen Moon is an independent college counselor and founder of MoonPrep.com. She specializes in Ivy League, Gap Year, BS/MD Programs and International Students.