Whenever someone asks me to sum up the Blue Ridge Mountains, I always think back to when my parents visited me during my stint in the Colorado Rockies. My mom had never been out west and I remember driving over the pass and asking, "Mom, isn't this amazing?! Aren't these mountains incredible?!" She thought about it briefly, and then replied, "They are very beautiful, but…I don't know…our mountains are just friendlier." And I think I agree with her. When I drive into western North Carolina and see those rolling hills, it's like a big green hug welcoming me home. It's deceiving, though, because from afar they are in fact friendly, but once you're in the thick of it that big green hug feels a little less welcoming. That juxtaposition is what I love about them. They simultaneously invite you into the green and push you out of it. Anyone who has had a face full of rhododendron while traveling off-trail would agree. But it's the green, shadowy tunnels that make traveling through these mountains so rewarding.
One of my favorite things to do on a course is plan a route that keeps us slogging uphill in the trees for multiple days before reaching an open, expansive view. Seeing the look on someone's face when I point out to them where exactly we came from is incredible. You have to earn your views around here. I love high alpine trekking with constant mind-blowing views just as much as the next person, but I find that for me the summit means less to me when I'm looking at the same view the whole way up the mountain. 
When I was living out west, people would ask me what I missed about home and I would, without skipping a beat, reply "the color green." The high alpine environment felt desolate to me. I like my forests teeming with life. If you want to see the wonder of this place you have to pay close attention, be willing to explore every crack and cave, get some dirt under your fingernails, and have the tenacity to do so during multi-day rain storms. These mountains are what combine my love of adventure with my curiosity about the cycles of the natural world. I've been fortunate enough to explore lots of different landscapes while traveling, but it always feels exciting to come home to the Blue Ridge." -Kristen Keane, Course Director, Instructor, Outward Bound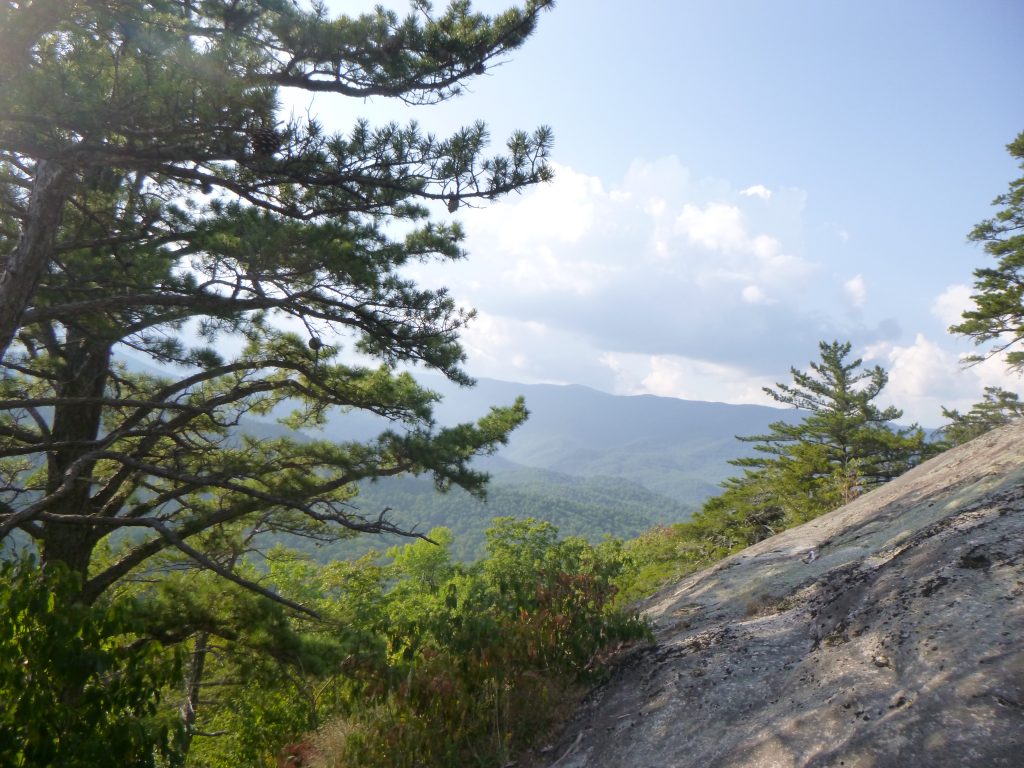 I share her thoughts because it's a testament to our interconnectedness, how our love for this place grows overtime and into others we share it with. The Blue Ridge Mountains are the most magical place to be because we have to sit among their humbleness before we understand the friend they are and the lessons they teach us.
As I've had the privilege to hear stories from seasoned and passionate Instructors about their connections to the Blue Ridge Mountains, my own appreciation for this area of the country has grown. Jason Linguanti, Outward Bound Instructor said, The mountains don't immediately hand over the magic they hold, you must work for it. Many parts lie in mystery and secrecy until boom, suddenly you're surprised with an amazing view or a serene waterfall. It's true; with over hundreds of waterfalls in the region we explore, you won't be disappointed, feeling refreshed and in awe of the mystery that is behind every corner.
I'm excited to share with you some of the hidden magic that dances within the temperate rainforest that is the Blue Ridge Mountains, and why voyaging to this area is worth getting wet for—what the rain, mountains, rivers, unique and large biodiversity, and history that lives here can pass on to you.
About The Blue Ridge Mountains
The Blue Ridge Mountains are a region of the larger Appalachian range. They are the oldest mountains in the world and therefore have the most stories to share. They began forming over 400 million years ago, and while they used to be the tallest mountains in the world, weather and erosion gave them the graceful and rolling hills feel they have now. While you may greet the mountains without intimidation—for they are graceful and quiet—you learn quickly that although they may not be the tallest peaks, they are the oldest. A highlight for most students on a Blue Ridge Mountains course is summiting the highest peak in the range—Mount Mitchell at approximately 6,683 ft! These mountains are a perfect example that you grow more beautiful as you age. Walking among them is an intimate experience and students must figure out why that intimacy is of service for them.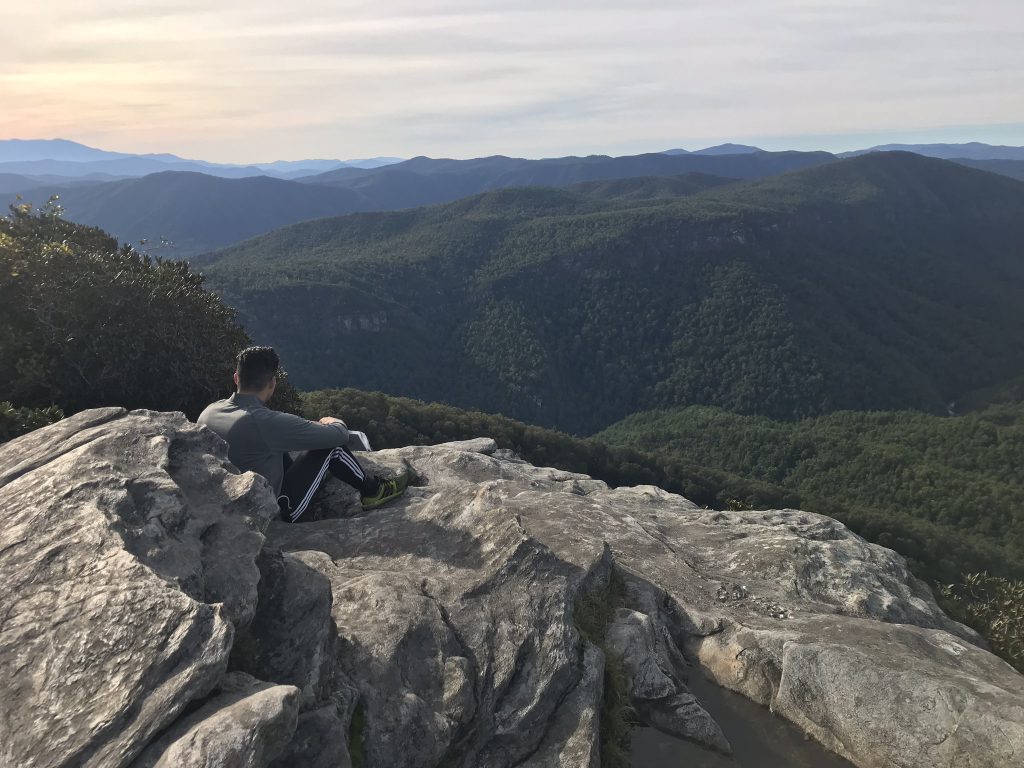 The Blue Ridge Mountains are an open invitation to explore and play. Imagine yourself backpacking through rich, dense forest. Bridges made from Mountain Laurel and Rhododendron Bushes. Unlike what you may envision when you think of mountain views, large vista points and standalone independent peaks, the Blue Ridge Mountains instead require your attention to seek beauty around and within you. Along with its age, what makes it a worthwhile place to explore is its biodiversity. According to the Blue Ridge National Heritage Area, there are over 4,000 documented species of plants, 2,000 species of fungi and 500 species of mosses and lichens in the region.
The diversity here aligns with the welcoming inclusion of all to embark on a journey with Outward Bound: there's a program for everyone—veterans, educators, adults, families and teenagers.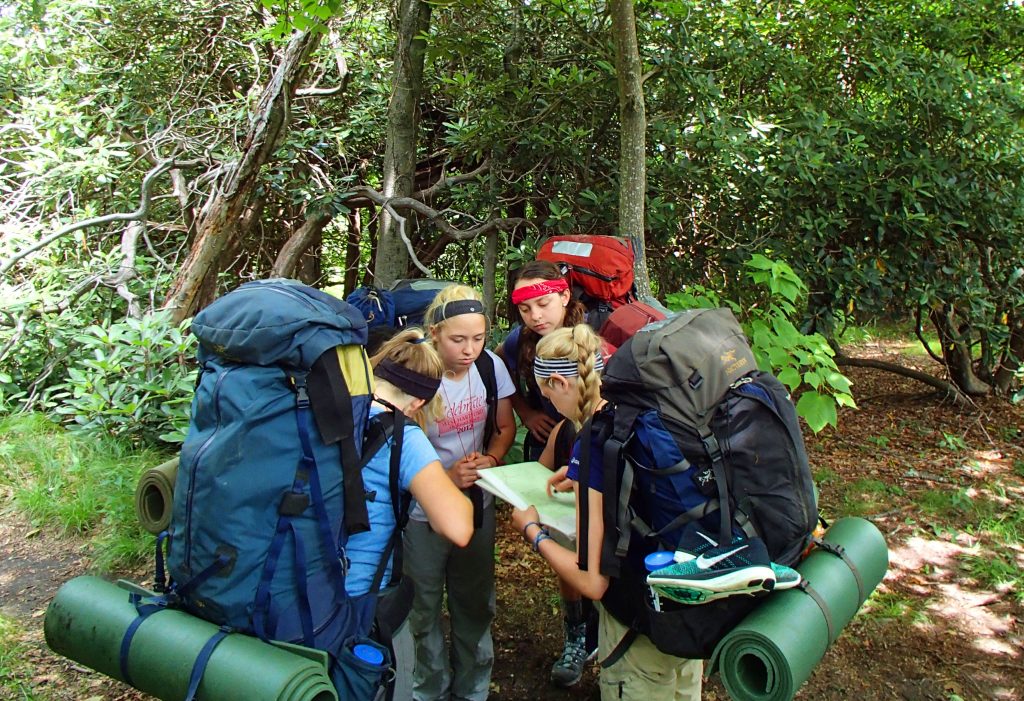 It's a spectacular challenge to wrap your mind around the fact that so many different things can thrive in this one environment—you included. One of my favorite facts that I learned when I started working here was that this region is home to the most salamanders than any other place in the world. Summer expeditions are the desired time to find them crawling around, especially after an afternoon rainstorm, they seem to bring back to life a student groups motivation to keep going. As the clouds part to let the sun shine through the trees, the salamanders add vibrancy to a hike, pinches of oranges of yellows among so much greenery. If you're paying attention, you can't miss them.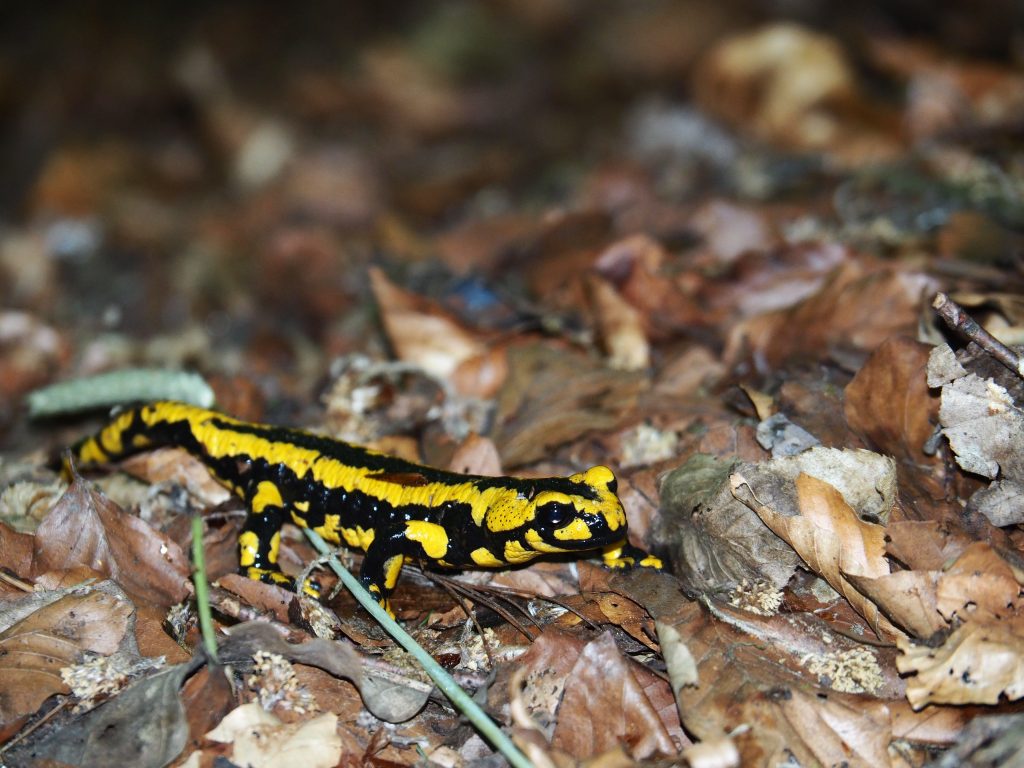 That's one of the biggest and most humbling lessons these mountains have taught me, and I've seen aspects of the teachings within my students: pay attention. It can be paradoxical to think that the oldest mountains are close to booming cities; it can be as short as an hour drive if you live locally, and yet, they can go untouched and unnoticed because of their subtleness. If you chose to pay attention, you will find and appreciate what they offer: depths of knowledge, traditions and beautiful, sustained life.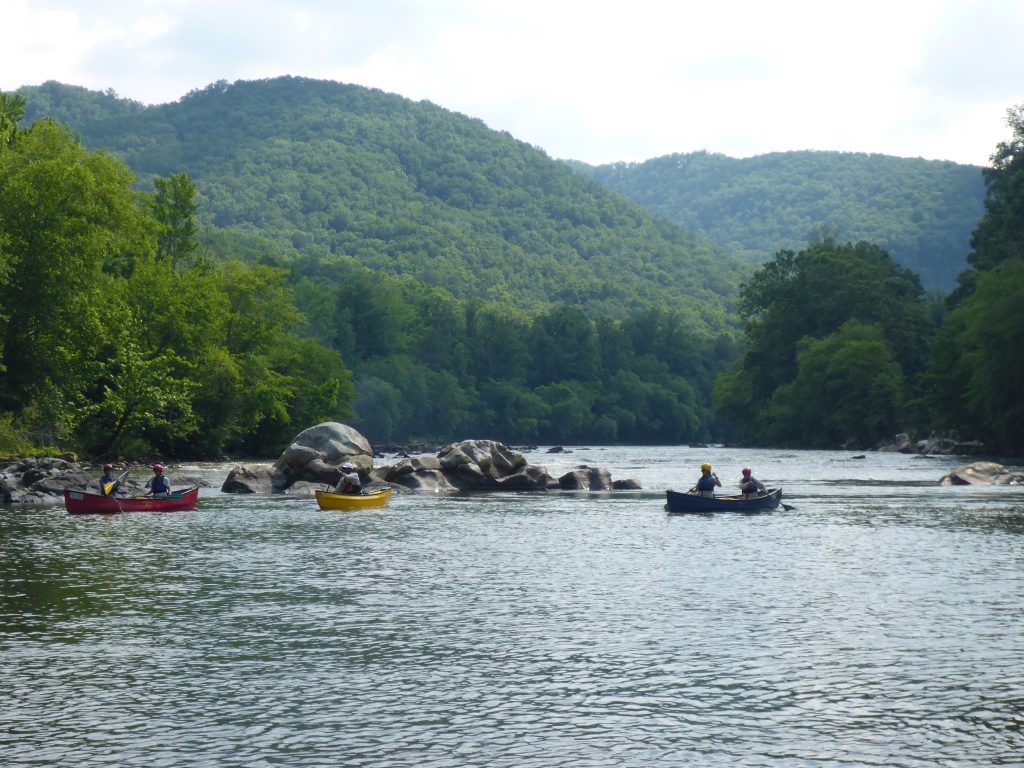 Within the Blue Ridge Mountains is the Pisgah National Forest, one of the first national forests in the Eastern United States. The Pisgah National Forest is the home of our School, and what makes our home special is the sharing of it with course flora and fauna, critters and stories of the past. The Pisgah National Forest is comprised of approximately 46,000 acres of old-growth forests. Denying this fact is denying the preciousness of the forest that we sacredly explore in: it's taken care of, thriving without distraction. There's so much depth to the mountains. As a part of the larger Appalachian range, the Pisgah Forest residing in the Blue Ridge mountains, there's so much to discover and learn, and the depth that the mountains present is the foundation of a student's curiosity. While on a course in the Blue Ridge Mountains, you can ask your Instructors more about the tales of the trees, the formative process of the rock you climb and summit back millions of years ago, and feel for yourself the humility the mountains present.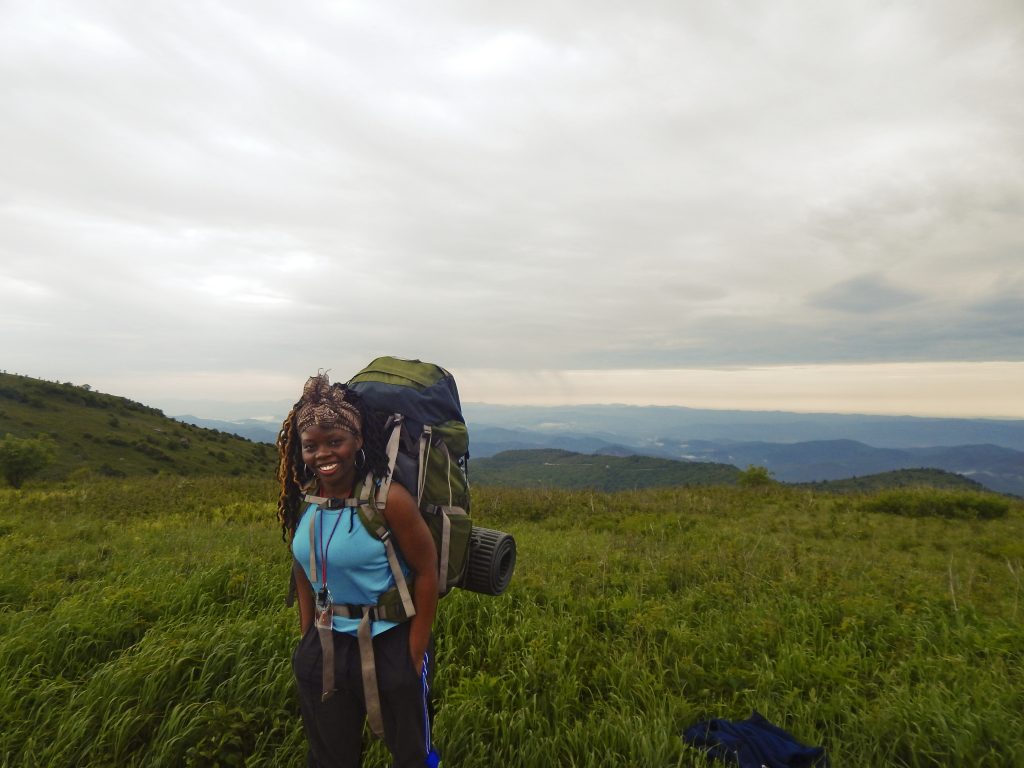 My love for the mountains was a slow build. I share this with you because even as an Instructor in this region, it took me some time to truly appreciate what they had to offer me. I had struggled among them, soaking wet and exhausted. I hadn't seen a vista for days and felt lost among the trees. But after trekking along you become more in-tune with that's around you, and when you do finally get to the top and look out at where you came from, the feeling is unlike anything in the world. You sit both with stillness and an awakened and wondrous spirit.
It's special to think that you're never hiking towards something, you're hiking as a part of something. The Blue Ridge Mountains don't demand your attention. While you reside in them, you'll see how naturally you let go of the don't-matters of the world you left behind. I've seen growth within my students and co-workers beyond the height of Mountain Magnolias and the thickness of Rhododendron Shrubs. The mountains' beauty is hidden, but it's not being anything other than itself. As it doesn't demand our attention, you must learn to pay attention, and that quality will serve you well when you leave their trails. Navigating through everyday life, you'll remember to appreciate the little things.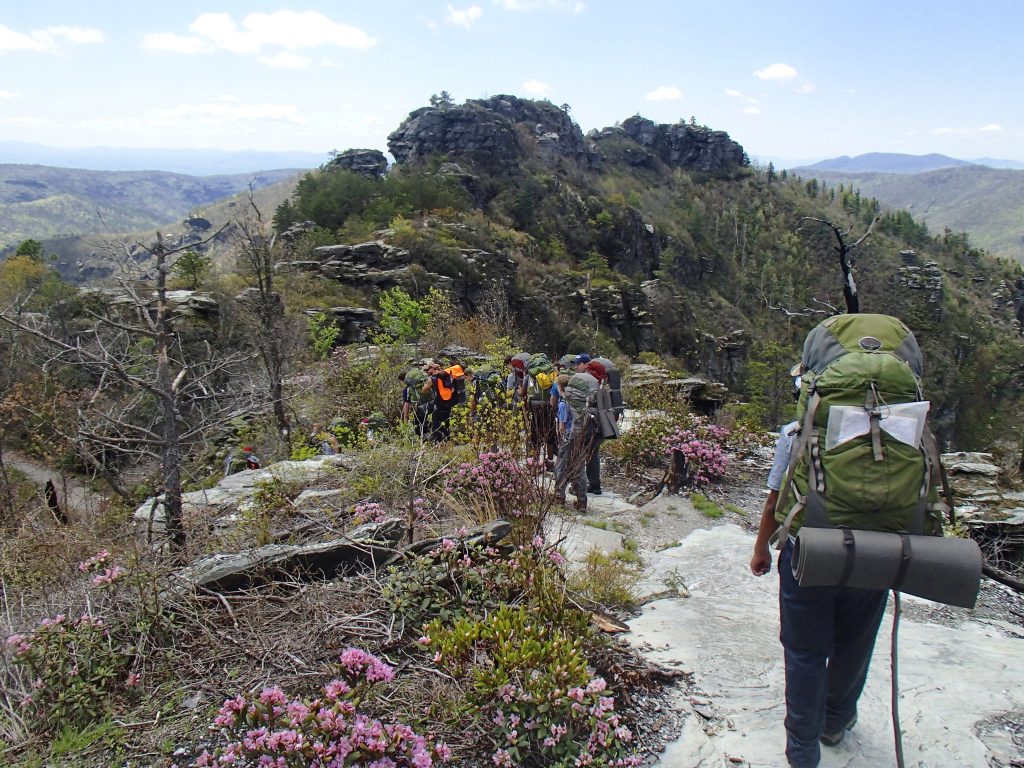 Go backpacking, hike through trails as old as time, cross streams, celebrate the elevation gain and loss of a long day's hike, build campfires on top of peaks while singing and laughing with the birds and the breeze. A week spent in these mountains is a treasure and destined to bring you some good.
Exploring the Blue Ridge Mountains with Outward Bound
"In my life, I've been fortunate enough to travel to many places. I'm always happiest in the Southern Appalachians Mountains. Every time I've come home from another place, whether it be another country or the Everglades of South Florida, I tear up when I see my mountains again. Maybe because I grew up here and have chosen to stay here, moving from one side of the mountains to the other, maybe because these mountains are so old you can feel the wisdom of stories coming from them, probably a combination of both. But I do really love these mountains." -Jen Grady, Program Director, Outward Bound in North Carolina
Most courses offered in the Blue Ridge Mountains will include a backpacking component. Carrying all you need on multi-day expeditions is the best, most intimate way to grow closer with yourself and this place. After building up the strength and endurance—the sense of empowerment that comes from knowing you have everything you need on your back—it's refreshing to experience something different while still meaningful.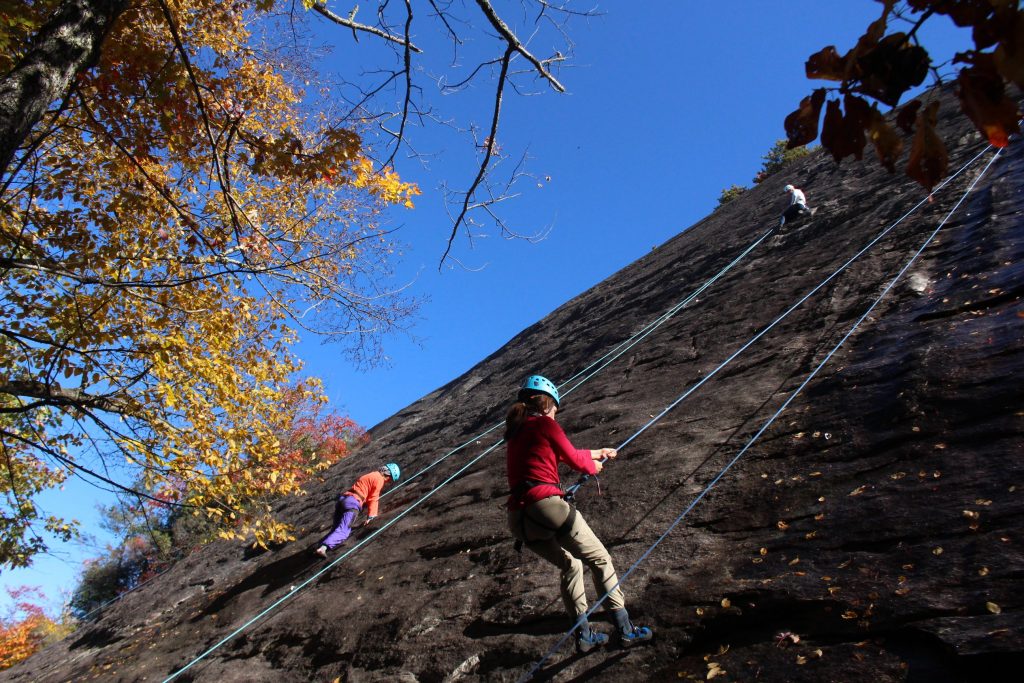 Courses are composed of blocks, often a three to five-day progression of a more technically difficult, higher-intensity outdoor activity. Students will paddle whitewater on historic and serene rivers—one being the third oldest river in the world: French Broad River. They'll also multi-pitch rock climb on some of the oldest rock in the world. The cycle of creation is enough to compel you to venture here. These technical blocks allow students to challenge themselves in a way that demands mental strength, pushes them into an unfamiliar and heightens awareness of how they communicate and support others. You will experience the Blue Ridge Mountain range in many ways—via paddle, climbing, and/or hiking. There's no doubt that these forms of travel and adventure will instill magic within you as you leave behind your own story for the mountains and take with you a piece of its everlasting and untouched beauty and history. It's an incredibly unique and breathtaking environment, yet humble and understated at the same time. Its beauty is rarely shoved in your face the moment you show up, you have to look for it." -Jason Linguanti, Outward Bound Instructor
So come look with us—we offer so many options, including one that is right for you.
About the Author
Blaine Weiss is an outdoor Instructor who works primarily with the FINS and Intercept programs of the North Carolina Outward Bound School. With a background in film and writing, she seizes the opportunity to fuse her interests in the creative arts with her love of the outdoors.