Semester Alum, Mac Gaither provides a bird's eye view into his expedition learnings through his own words and photography.
It was day 59 of our 63-day Leadership Semester program. We'd climbed mountains on top of mesas, canoed the Lower Canyons of the Rio Grande, cross country skied and mushed our way across lake after lake in the Boundary Waters of Minnesota, and yet here we were covering the hardest miles of the trip.
We were on Final. The home stretch. A phase in our Outward Bound program that handed the reins from Instructors to students. We had gone through Satellite Phone tutorials, CPR training, ice quality checks, months of map reading and navigation practice to prepare us for this moment. From this point on, we would no longer have input from Instructors on any group decisions, unless there was an emergency—it was up to us to handle every challenge that would come our way.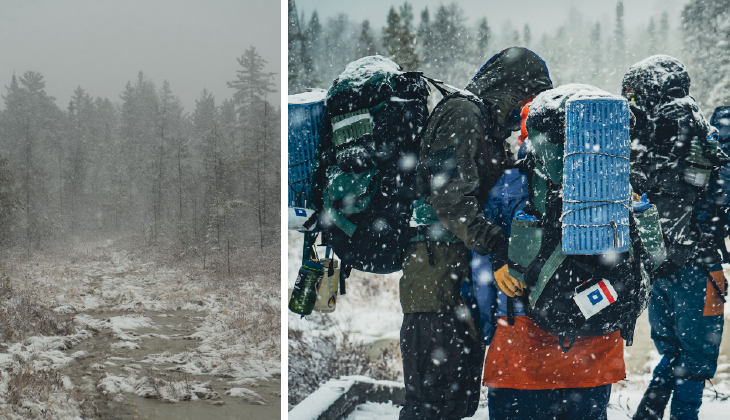 Day 59, the Half-Frozen Lake and Teamwork
Trudging through a half-frozen swamp in a gross, wet snowstorm with a foot of snow on the ground was certainly not what I had hoped to be doing on our final expedition. So, when I turned around to see my crewmate lose his balance and end up half-submerged in a deep puddle, my heart sank. "What a way to start the day," I thought to myself. Yet, just as quickly as that thought arose, it fell away.
"What could have derailed morale for the entire day, ultimately acted as one of the many stepping stones that would guide us through arguably one of the most grueling days of the whole trip."
I felt a shift in myself and the crew's collective gaze. With temperatures below freezing, I found myself instinctually looking into the adjacent woods for flat ground as Cam pulled himself out of the water. I watched as Lucy collected firewood, Sarah unfolded tarps in a small clearing and Sebastian helped Cam out of his wet layers and into a fresh set of clothes.
Instinct and Positivity
Within minutes, we'd splayed a grid of dry tarps across the forest floor, rigged a waterproof brigade tarp in the trees above us and started a fire. As Cam warmed up and dried off and our adrenaline levels diminished, a wave of great pride and trust in our ability to problem solve and do so knowledgeably swept across our crew. The thought, "Dang! We've got it DOWN!" might be my most clear part of the memory. What could have derailed morale for the entire day, ultimately acted as one of the many stepping stones that would guide us through arguably one of the most grueling days of the whole trip.
Finding Positivity Amidst Challenge
As I look back on that day, I consider all the experiences that led us to react quickly and maintain positive. Traversing Big Bend National Park, canoeing through Texas' February Snow storm on the Rio Grande, developing friendships, learning to survive in subzero temperatures, dog sledding, making mistakes, having group discussions and learning to be vulnerable were just a few.
"I began seeing challenges less as an obstacle, and more as an opportunity."
Through each and every experience we had opportunities to learn how to respond to our environment and consciously choose to take care of one another. It nonetheless made me wonder—what about those experiences led us to walk away from this challenge focused on how much we had grown as a team instead of frustration and blame? I think that it ultimately came down to perspective.
"Accept, Not Expect"
At the beginning of my expedition, an Instructor told us the phrase, "accept, not expect," as we adjusted to wearing masks in the hot Texas sun. I remember thinking, "that's not really what I want to do at ALL… but, hey, cool phrase." It was mentioned again as we found out we'd be hunkering down for a couple of nights to let the record-breaking snowstorm pass through on the Rio Grande, then again when the storm came back for another bite four days later. It was only when we finally arrived at the pickup location at the end of the Lower Canyons after a 22-mile push that I think I really began to live with the phrase. I began seeing challenges less as an obstacle, and more as an opportunity.
Your Choice to React
In life, we seldom have a choice as to when or how challenges come into our lives. There are no warnings or alarms, but it is in those moments that we have the opportunity to experience growth down to our core.
On my Outward Bound expedition, my crew learned that when it comes to challenges there is always more than one choice to be made. Will you face your challenge head-on? Ask for help? Will you pass the blame onto someone else? Will you accept the challenge or latch on to your expectations that said otherwise? What will you let your attitude dictate?
After 58 days of confronting challenges as a team, acceptance had become almost second nature. Of course, there was always deliberation and time put into orchestrating our approaches when possible, but we had begun to truly live through the lens of "accept not expect." That morning's challenge became our fuel that gave our crew the mindset that we were prepared, confident and capable of finishing out our expedition as a crew.
Memories for a Lifetime
Over the course of the many expedition stages the crew and I went on during our Semester program, I developed friendships, skills and new perspectives that I will carry with me for many years to come. A big facet of the trip for me was my camera. I lugged a 10-pound camera case with me everywhere I went. And while I can never relive the exact emotions and growth I experienced, they provide a fantastic glimpse into our adventures across the deserts, mesas, lakes, rivers and forests.
The photos above and below document our journey through the beautiful Chizo and Jumano lands of Big Bend, Texas and the pristine Anishinaabe lands and lakes of the Boundary Waters in Minnesota and Ontario.
Note: All photos are credit of Mac Gaither, graduate of the Boundary Waters Dog Sledding and Texas Big Bend Leadership Semester.
---
About the Author
Mac Gaither is a college student hailing from the Bay Area in California. Pursuing a double major in Environmental Science and Film, Mac bridges the gap between his love of the outdoors and his interest in tech. In his free time, you'll find Mac rock climbing, going on hikes with his dog, Moose and delving into the world of making 3D animation. Currently, Mac works as a waiter and will be heading back to Bates College in the Fall.