Not everyone thinks about going on an Outward Bound expedition outside of summer, but there are many reasons to love our off-season courses. Fall, winter and spring often mean fewer hikers and groups in the backcountry, providing individuals a truly unique experience. Factors that can seem like deterrents – colder weather and longer nights – actually set you up for unforgettable moments like stargazing beneath a dark sky.
"It often seems to me that the night is much more alive and richly colored than the day." –Vincent Van Gogh (1888) 
Keep reading to explore what a dark sky is and learn more about why some of our favorite expedition locations should be explored in the non-summer months. 
In his book, The End of Night, Paul Bogard writes about the impact of our society continuing to "light up the night." He writes, "No continents burn brighter than North America and Europe. Already, some two-thirds of Americans and Europeans no longer experience real night – that is, real darkness – and nearly all of us live in areas considered polluted by light." 
An anecdote to that? Dark Sky Parks. The International Dark-Sky Association (IDA) defines a Dark Sky Park as "a land possessing an exceptional or distinguished quality of starry nights and a nocturnal environment that is specifically protected for its scientific, natural, educational, cultural heritage and/or public enjoyment."
Think about it this way: less light pollution equals more distance from population centers, which leaves you with more chances to experience clear constellations and glimpses of the Milky Way. There's even a rigorous process to become designated as an official Dark Sky Park! 
I spoke with three Outward Bound staff who have been with Outward Bound for a total of 30 years to get to know more about these Oases of Darkness, as the National Park Service calls them. Below are a few of their favorite fall to spring destinations for outdoor travel and for experiencing truly dark skies.
The Boundary Waters – "There Is Magic in Those Northwoods" 
Picture this: It's late December in the Boundary Waters Wilderness Canoe Area (BWCA). It's 4 pm and the sun is already beginning to set. By 5 pm darkness sinks in—the sun won't return until almost 8 am. Almost 16 long hours of night set in. 
Winter nights in the Boundary Waters are long, dark and bitterly cold. So why is it that Outward Bound's annual staff dog sledding expeditions sell out within minutes? Tessa Olson, Director of Student Services for the Voyageur Outward Bound School (VOBS) has been working for Outward Bound since 2015. According to her, it's because these winter courses are just magic. Imagine deep peace, snowy expanses as far as the eye can see and perhaps getting to experience the Northern Lights in their incredible displays of color.
"There is some legitimate magic in those North Woods," says Outward Bound Instructor Laura Lynn DelRoss. "One of the most visible manifestations of that is the Northern Lights. They happen all the time [in other Northern states] but we can't see them because of clouds, light pollution or because we're inside when they're happening."
Despite the BWCA being the most visited wilderness area in the U.S. most visitors come during the warmer months. So in the winter, you get it to yourself. As Tessa says, "When people embrace the winter, it creates this sense of surprise. You can have fun and enjoy doing something outside in the cold…it's hard and it's rugged but it's not dangerous." Participants on these winter courses learn how to skillfully use the precious daylight hours and embrace the long nights.
Another aspect that makes this experience almost impossible to replicate on your own: having animals on your expedition team. "You can't rent your own [sled] dogs!" says Tessa. "[The dogs] all have really unique personalities" and are an integral part of the expedition team.
Laura puts it this way: "Sometimes it's really hard to talk to humans. With dogs, there's no judgment. You get to be exactly who you are as a human. I've seen students totally transform [when working with the sled dogs], particularly students who are neurodivergent or on the autism spectrum." She also calls dog-sledding "the most exhilarating sport I've ever experienced." The closest she can compare it to is being at an amusement park. "Laughing hysterically, pure giddiness…a choose-your-own-adventure rollercoaster ride."
Tessa's Course Recommendations: 
Boundary Waters Dogsledding & Texas Big Bend Leadership Semester
Boundary Waters Dogsledding & Cross Country Skiing for Adults. Have a really magical experience and go on a course over New Year's.
Boundary Waters Dogsledding & Cross Country Skiing (Teens)
Big Bend National Park – Escape the Crowds at One of the Least-Traveled and Least Light-Polluted Parks in the United States
Perhaps sunshine calls to you in mid-winter. Two of our favorite desert locations, Big Bend National Park in Texas and Joshua Tree National Park in Southern California, are designated Dark Sky Parks. Tessa considers Big Bend "one of the best places in the country to view the night sky." Laura shares, "When you're traveling through the Chihuahuan Desert, there's a feeling that there's nowhere bigger than the Chihuahuan Desert. The sky, the sense of time, everything feels bigger."
Among the lower 48 states, Big Bend is one of the darkest places, with less light pollution than any other National Park! This makes for prime nighttime viewing. For perspective, "[you] can see approximately 2,000 stars on a clear night here, compared to perhaps a few hundred in a medium-sized city."  
What surprised Laura when she first arrived in Big Bend? "Vegetation! Oases!" She recounts her wonder at seeing so much water, "I hadn't stumbled upon full-on gushing water [in the desert]" until spending time in the Chihuahuan Desert of Texas. And Big Bend Ranch State Park? "No one is there! You're not going to run into anyone. You won't see any roads or parking lots. You're in the middle of nowhere…it's incredible for a lot of reasons." Big Bend National Park is one of the least-traveled National Parks in the United States. 
How does hiking in a sandy desert washed by moonlight, napping during the warmth of the afternoon sun and carrying everything you need to be self-sufficient sound to you? There's a pace for everyone in Big Bend, whether you seek a slower, more contemplative course like backpacking or desire a more adrenaline-filled one like canoeing through towering 1,200-foot canyon walls on the Rio Grande River.
Don't miss the chance to escape to the desert and experience this outstanding "Oasis of Darkness." On an Outward Bound expedition, we take care of those logistics for you, leaving you to enjoy the incredible scenery and unique desert landscape.
Tessa's Course Recommendations: 
Texas Big Bend Desert Backpacking
Pathfinder Texas Big Bend Canoeing & Backpacking
Joshua Tree National Park
Despite the millions of Joshua Tree visitors every year, very few ever leave the trail, let alone the road, leaving a lot of territory left for you to explore. As in Big Bend, coming on an expedition here with Outward Bound means that we take care of the logistics – caching food and water for your group to pick up as you hike through the Mojave and Colorado desert landscapes. 
Even with 22 million people living within a few hours' drive, Joshua Tree received Silver Tier status as a Dark Sky Park in 2017. Meaning that "the Milky Way must be visible in the summer and winter, while 'minor to moderate' illumination from artificial skyglow is allowed." The park even sponsors a Night Sky Festival every fall. 
Longtime Outward Bound Instructor and former Joshua Tree Assistant Program Director Lawrence Schuessler has lived and worked out of Joshua Tree for years. His highlights on Outward Bound courses? The solitude, the colors and stargazing with students.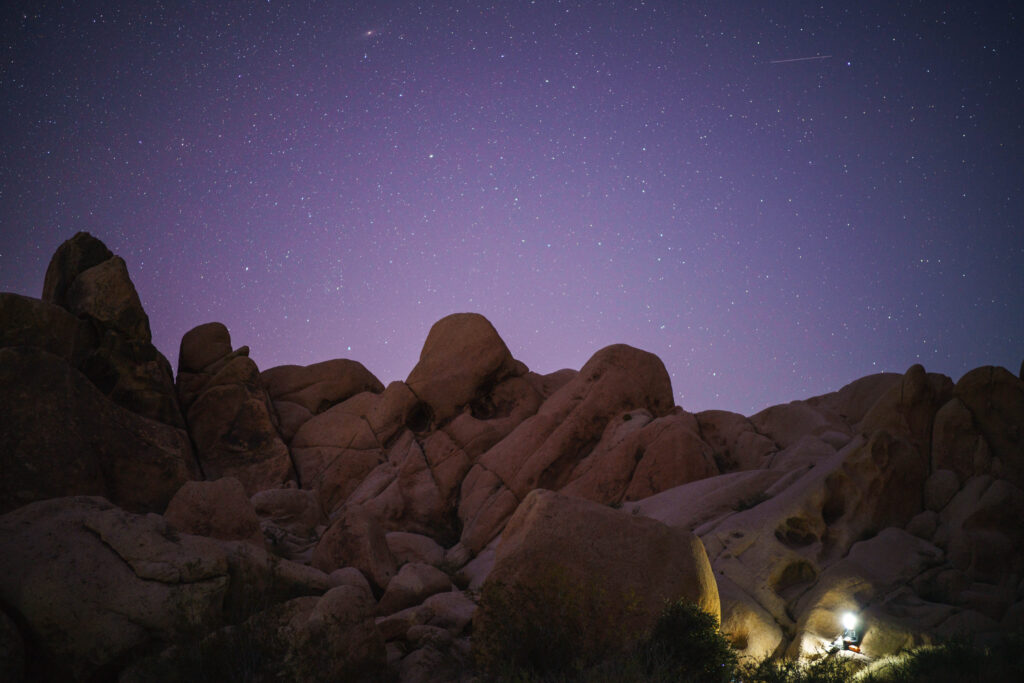 "I think the desert has so much going on. Sometimes it's hard to describe it unless you spend time there, get off the roads, get off the trails and hike cross-country. I've never seen a bad sunset there. We wake up early to avoid the heat, so sometimes when we wake up, it's still dark…watching the colors as dawn approaches – purples, pinks, reds." Lawrence talks about how on Outward Bound courses he and the students make up stories about the stars. "Almost every course I've worked on the students talk about the darkness of the skies and say, "I've never seen so many shooting stars!"
Did we mention rock climbing? With over 3,000 established climbing routes, you could spend an entire lifetime trying to scale all the amazing granite that Joshua Tree has to offer. Even if you're not on a climbing course, your group may still spend time wandering in the wonderland of rocks or scrambling over granite formations. Find out why this rugged landscape has captured the hearts of so many. 
Director of Student Services BJ Allen's Course Recommendations: 
Pathfinder Joshua Tree Backpacking & Rock Climbing
Joshua Tree Backpacking for Adults
Get Outside This Winter
Don't be afraid to get outside and stargaze before next summer. You may find that some of your best outdoor experiences happen at night. Sign up for one of our recommended courses. Maybe you'll experience the thrill of seeing the Northern Lights, count shooting stars as you fall asleep or feel awe at witnessing the Milky Way in all its undiluted brightness. As the staff of Joshua Tree National Park likes to say "Half the park is after dark." Take this advice from poet, farmer and nature writer Wendell Berry: lean into the darkness and enjoy the wonders it brings. 
"To go in the dark with a light is to know the light.
To know the dark, go dark. Go without sight,
And find that the dark, too, blooms and sings
And is traveled by dark feet and dark wings" -Wendell Berry
To Learn More About Dark Skies Check Out These Resources:
---
About the Author
Caitlin loves spending time with people in the outdoors. She aspires to help others cultivate the connections that can happen when we are away from distractions and able to be authentic. Caitlin has been involved with Outward Bound since 2007. She's worked at Outward Bound California and Colorado Outward Bound School as a Logistics Coordinator/Intern, Instructor, Course Director and Student Services Manager. She also works for Inward Bound Mindfulness Education and Stanford University's Adventure Program. Caitlin calls the West home and has lived, backpacked and climbed throughout the Western US including Joshua Tree, the Sierra Nevada, Arizona, Oregon, Western Washington, Colorado, Utah and Nevada.