Making a positive difference in someone's life leaves a trace on both parties involved. For the life changed, the impact is obvious and the benefits, tangible. For the change agent, the impact is different and no less valuable. For both, the outcome is often the same—gratitude for being on the journey.
From time to time I have the privilege of facilitating Outward Bound experiences for adults, and one of the questions I invite them to explore with each other is this: How have you made a difference in someone else's life? The responses are consistently and profoundly moving. As individuals are asked to remember and share these experiences, most admit that they rarely stop to think about and reflect on those times in their lives. At the end of these exercises, we express gratitude. We thank each other for the differences made in the lives of others, we contemplate the impact of those differences and we consider how that positive energy may be carried forward.
Taking the time to be thankful and appreciative for things you have received, tangible or intangible, makes you feel more positive emotions, relish good experiences, improves your health, helps you deal with adversity and builds strong relationships—all crucial traits both in and out of the workplace. (Source)
Less than a month ago, Outward Bound USA gathered its community of regional Schools and supporters for its 2018 National Benefit Dinner in New York City. Hundreds gathered on a stormy Tuesday evening to raise funds and celebrate Outward Bound's mission–to change lives through challenge and discovery–and to explore part of the 'how have you made a difference?' question. How can we change lives? How can we mobilize our students and community members to change lives around them in positive ways?
The Outward Bound mission of changing lives through challenge and discovery is consistently delivered through climbing, sailing, canoeing, backpacking or other expeditionary adventures happening from the coast of Maine, to the backcountry of Colorado, the Boundary Waters, the mountains of California and the forests of the great Northwest. Perhaps less well known is that Outward Bound also lives in hundreds of schools in Atlanta, Philadelphia, Baltimore, New York City, Boston, Omaha, the Twin Cities, San Francisco and Portland. Outward Bound's network of regional Schools is where the change begins. However, the true and scalable impact of the change inspired through Outward Bound comes from the ripple effect of thousands of alumni recognizing and fostering both gratitude and compassion. What would the world be like if those values went viral? If we were somehow able to unleash compassion and gratitude in our communities, what would be the result?
The theme for this year's annual Outward Bound dinner, And, Above All Compassion, is drawn from Outward Bound's philosophy as defined by Kurt Hahn, founder of Outward Bound. "I regard it as the foremost task of education to insure the survival of these qualities: an enterprising curiosity, an undefeatable spirit, tenacity in pursuit, readiness for sensible self-denial, and above all, compassion."
Why is compassion such an integral outcome of every Outward Bound experience? Outward Bound's founder believed that compassionate leaders might save the world from social destruction and that young people who understood the significance of being self-reliant with good character and leadership skills to affect positive change were needed. The following quote, from the history of Outward Bound, could just as easily describe today's environment and need: "Education must enable young people to effect what they have recognized to be right, despite hardships, despite dangers, despite inner skepticism, despite boredom, and despite mockery from the world."
An Outward Bound experience is certainly an adventure in often remote and almost always natural outdoor places. Many of our students, youth and adult, come to Outward Bound seeking to spend time in nature and expecting to have an adventurous experience. These students leave Outward Bound with far more than they came for; they leave with a stronger understanding of who they are as human beings and who they are as part of their Outward Bound crew. They learn to stand for each other in order to overcome what often appear to be insurmountable challenges.
Everyone deserves an opportunity to discover the power of gratitude and its pathway to compassion. Whether you're a young person struggling to get to school every day because of your life's challenging circumstances or a young adult trying to succeed in a challenging work environment, understanding the importance of gratitude and compassion are critical elements of success.
At the end of this year's National Benefit Dinner at Guastavino's under the 59th Street Bridge, we lit our "crystal balls," dimmed the lights and shared a moment of quiet reflection considering compassion. And, we shared a moment of gratitude—for each other, for the conversations we had and for Outward Bound. After all, Outward Bound brought us together that night, as it does for thousands of students across the country every night on course.
In the words of John Milton, "Gratitude bestows reverence, allowing us to encounter everyday epiphanies, those transcendent moments of awe that change forever how we experience life and the world."
As you celebrate Thanksgiving this year, we invite you to consider gratitude and compassion at your tables. We at Outward Bound USA remain grateful that you are connected to Outward Bound and our bold vision that those who embrace compassion for one another will certainly make this world a better place.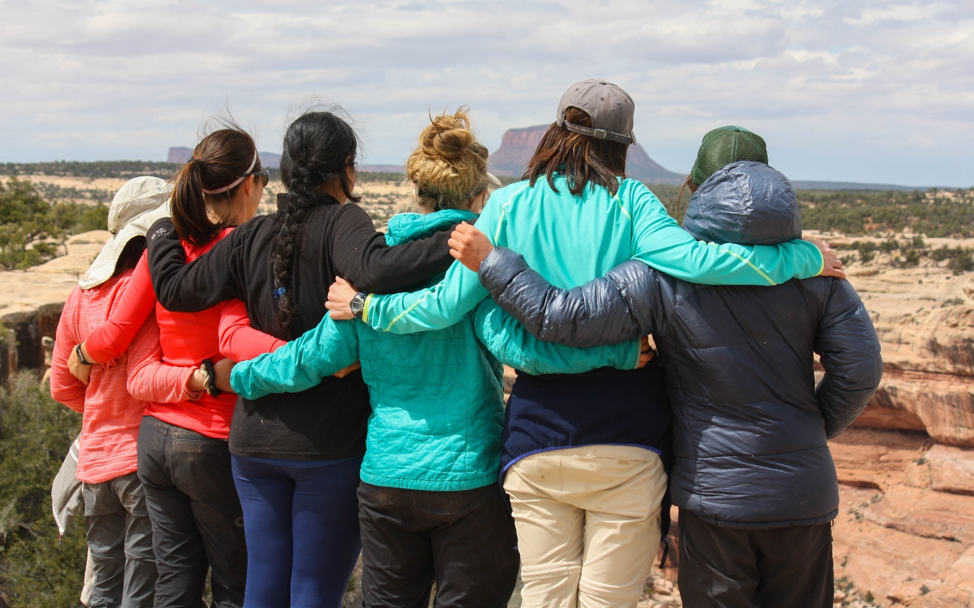 About the Author
Katie Newsom was recently appointed as Outward Bound USA's Chief Advancement Officer, a role she comes to after 20 years at the helm of the Philadelphia Outward Bound School. While she enjoys the challenge and adventure of raising awareness and funding in support of Outward Bound's mission, she is particularly passionate about inspiring others to achieve more than they ever thought possible–and to experience gratitude for that opportunity.