Near the end of a recent 20-day course, my crew of young men were worn out from a day's worth of canoeing. It was a cloudy night, and the moonlight was nonexistent. We spent several more hours paddling with the current that night. The fear of whatever creatures lurked in the darkness persisted, but the boys overcame that fear because they knew there was only one way to get to our destination, and that was to paddle. They embarked on that nighttime paddle—empowered beyond anything I had seen up until that point.
The boys on that course took immeasurable pride in the work they did. They were exhausted by the time we got to our destination, tied our canoes together and fell asleep in the boats, but there are some things worth exhausting ourselves for. They finished that course flaunting the fact that they conquered such a scary and unique expedition experience, and they finished that course feeling like strong, capable and empowered young men. And that, to me, is worth the exhaustion.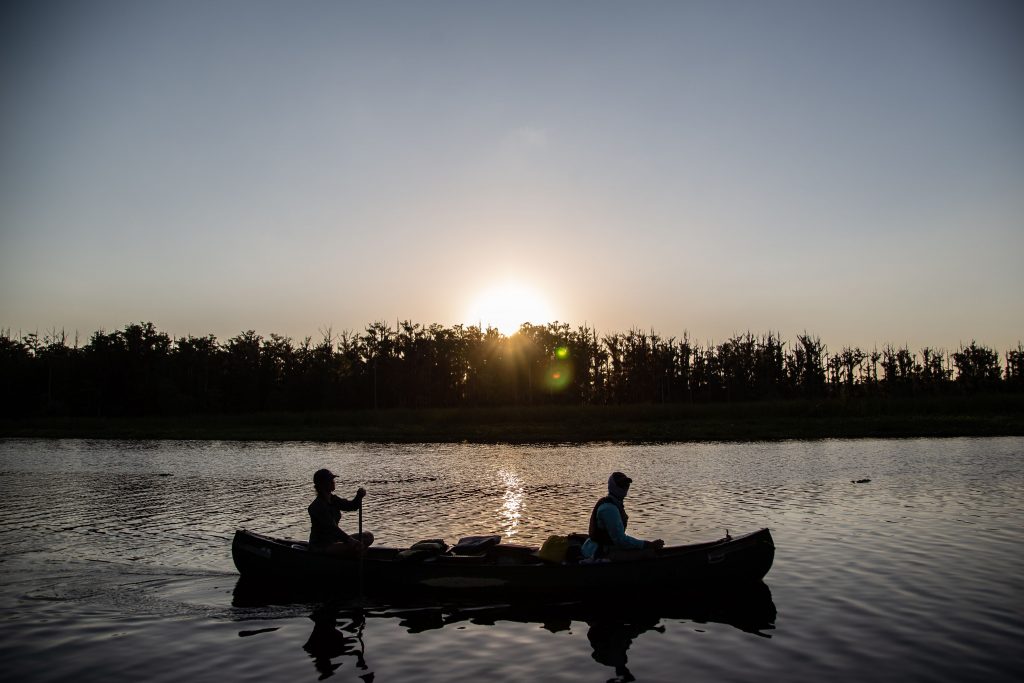 Growth Happens in the Stretch Zone
On every Outward Bound expedition, students and Instructors alike are pushed beyond their comfort zones and into their stretch zones. This is where growth happens.
It can seem to students that as soon as they've mastered paddle strokes and navigation skills while they can see, they're immediately presented the challenge of mastering those same skills in the darkness. Instructors, too, live in their stretch zone while on a course. Though we may be relatively comfortable with the environmental factors, we know that the best way to grow is to stretch, so we challenge ourselves to exist outside of our comfort zones.
The "leveling up" that students experience on a course is constant for Instructors, too. This is a huge part of why I still work in this field. There's an amount of internal motivation encouraging me to keep leveling up, pushing me to be the best version of myself so that I can best serve others.
The Reality of Working Outside
A popular term in my line of work is "burnout." Since I started working for Outward Bound, I've heard people say they were "burnt out." There are signs and symptoms of burnout, which may be but are not limited to: irritability toward co-Instructors; disinterest in going into the field; complacency; and negative talk regarding work.
When I first started at Outward Bound, I wore rose-colored glasses. I saw the burnout around me, but it wasn't my own. Of course, in some ways I carried the weight of my co-workers' respective burnouts, but my personal fire was roaring. I was new. It was exciting. The caliber of the people around me was remarkable. I had never known one community to embody so much compassion and support for growth.
Over the years, burnout has snuck into my mind and attempted to stifle my roaring fire. And that's because being in my stretch zone long term is mentally exhausting. On top of that, the work is hard. You spend days, weeks and sometimes months surrounded by the same group of people. Sometimes you get only a few inches of space from them. You play, eat, sleep, plan and poop with your crew and co-Instructors for days on end, seeing the purest sides of each of them, for better or worse.
Just being outdoors is challenging and at times, exhausting. Sometimes it rains for four days straight and I wonder if I will ever be dry and warm again. Sometimes I get sick of eating the same granola breakfast for three weeks in a row. Sometimes it's so cold that my skin busts open and starts bleeding. Sometimes it's so hot that the sun zaps all the energy out of me, and I'm too tired to even eat.
The harshness of the environment and the underlying stress of being an outdoor educator is the price I pay for the privilege of calling the wilderness my "office."
Why It's All Worth It
If I've positively impacted one student's life; if I've helped someone see their potential as a leader; if I've taught someone how to better communicate with their family; if I've facilitated an experience in the wilderness that has inspired someone to step outside again, then this job has been worth the stress, blood, sweat and tears.
The role of an Outward Bound Instructor is expansive. We're teachers, mentors, role models, professional outdoors people, survivalists, happy campers, experienced facilitators, athletes, unlicensed therapists, vagabonds and lifelong learners. And while it's exhausting to wear so many hats, it's also meaningful.
It's been my experience that the staff at Outward Bound is fueled by compassion. The people I work alongside show me the true meaning of genuine kindness and unconditional positive regard, and in doing so they've changed my life.
I fell in love at Outward Bound—with the experience, with people, with myself. I wouldn't trade this job for the world. It's here that I learned a new vernacular with which I can finally accurately express myself, have made lifelong friends, built relationships and gained perspective.
I've been provided opportunities to develop professionally and personally throughout this experience. I consider the rivers in Florida to be my home. I've explored the Outer Banks in a sea kayak, climbed mountains in Virginia, paddled in North Carolina—and the list goes on.
I take immeasurable pride in the work I do to help improve the lives of others. It's exhausting, of course, but there's some work worth burning out for. I'm so grateful for the opportunities I've had so far through Outward Bound, and I look forward to continuing to grow and serve in the field of outdoor education.
About the Author
Elizabeth Bowling is a field Instructor for the North Carolina Outward Bound School. She is based at the Scottsmoor, Florida basecamp and primarily instructs flat-water canoeing courses for at-risk youth which focus on behavior management. Elizabeth has a degree in journalism and international studies from the University of Connecticut.