What's better than a collection of the best podcasts to listen to on your way to the mountains, rivers, crags and canyons, or short films to watch on your rest days?
This list includes some of the newest and brightest productions of 2019, as well as older finds you can't miss. Each was chosen because of its story, practical information, visuals or because the piece shares a fundamental quality with what makes our courses successful, like the vulnerability and resilience portrayed in How One Wrong Turn Changed Jim Walmsley's Career. 
Short Films
Three Hearts Home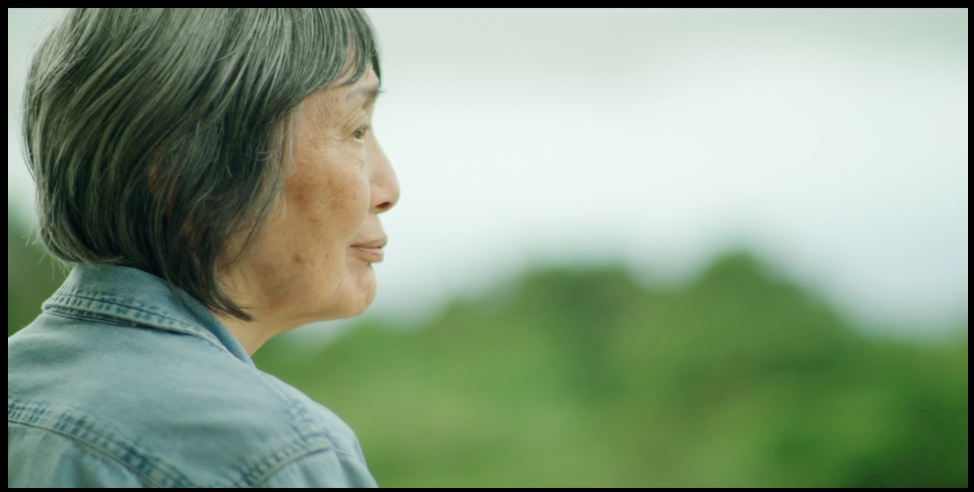 Kimi Werner is a native Hawaiian, freediver, spearfisher, culinary chef and artist. In this film she shines light on the relationship she knew about, but never had growing up—one with her biological brother who was given up for adoption before Kimi was born. This story is about finding one another, finding connection through the ocean, and finding closure. 
How One Wrong Turn Changed Jim Walmsley's Career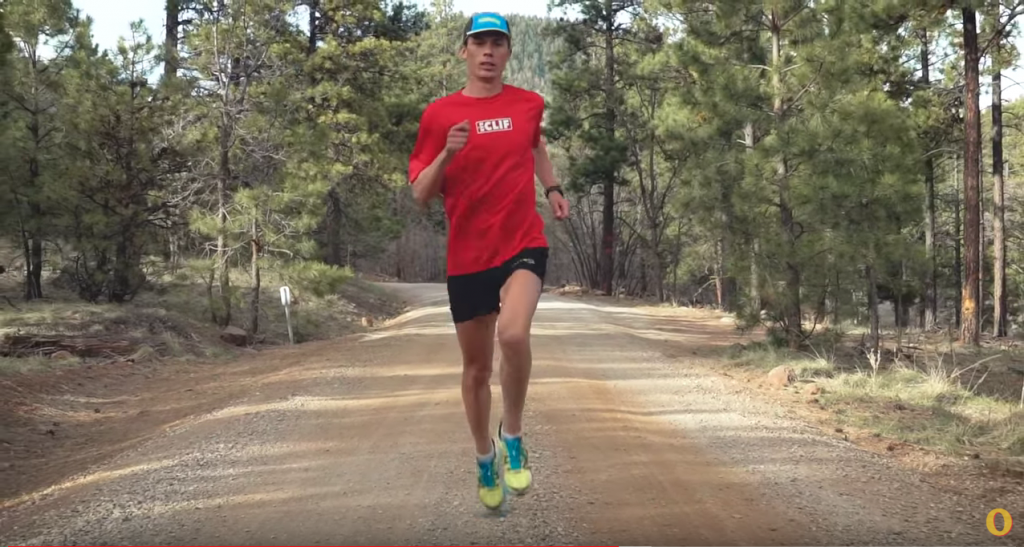 This year the world's oldest 100-mile trail race, known as the Western States Endurance Run, took place during the last weekend of June. The favorite to win, long-distance runner Jim Walmsley, took first place for the second year in a row, beating his 2018 record by 20 minutes. But in 2016, Jim entered the race and was 40 minutes ahead of the course record when he missed a turn at mile 93. Lost and deflated, Walmsley completed the race in 20th place, finishing four hours past the 14:46:44 race record. In this film, Walmsley relives the period of depression leading up to the race and explains how that wrong turn impacted his motivation to live a life that includes running.
The Kora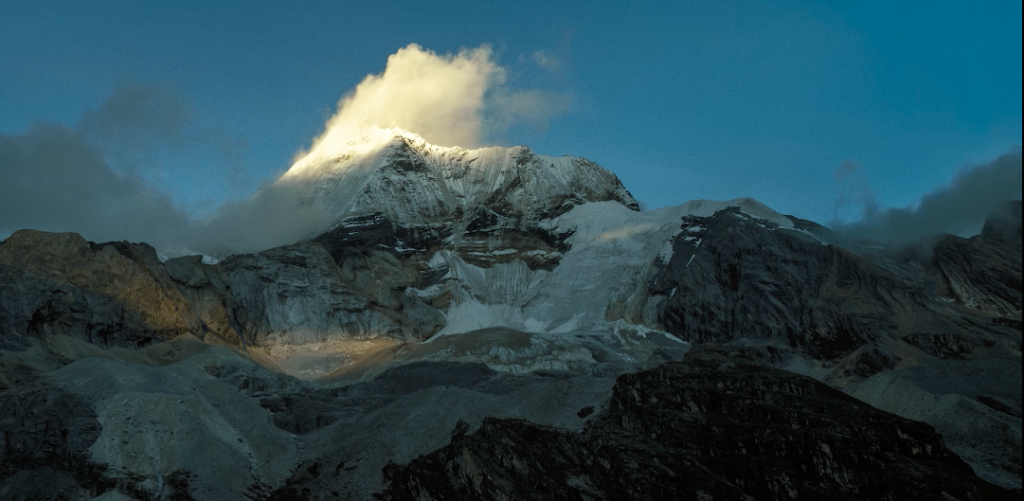 This video by Joey Schusler is stunning. Joey and his team's proclivity towards adventure and serious risk combined with epic storytelling, vast views, and detailed editing make his films delightful to watch. 
Here is what the film's about: "High in the Himalayan hinterlands of southwest China, three majestic mountains soar above sprawling floodplains that spill into the country's sweltering lowlands. Over the centuries, various Dalai Lamas have ordained these towering peaks as sacred, and the Tibetan people who inhabit this isolated region revere them as granite gods. A pilgrimage around the base of these 19,000-foot-high giants is considered a holy undertaking, and those lucky enough to finish this arduous circuit—known as the 'Yading Kora'—hope the effort will purify a lifetime of negative karma. Inspired by this time-honored rite of passage, three adventurers set out to complete this kora on mountain bikes, carrying everything they need to survive the 10-day mission themselves."
The Runners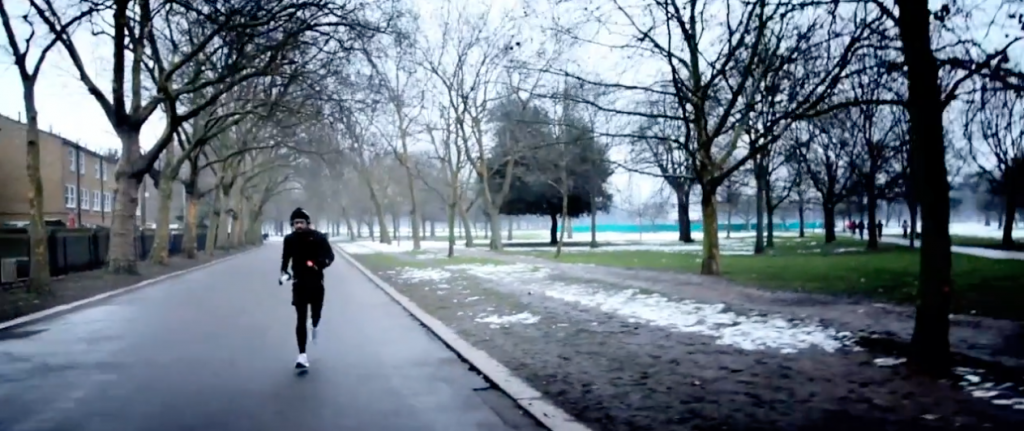 A personal, relatable and effortless documentation, this film features a compilation of spontaneous interviews with the runners of London's parks. While each runner pushes through the elements, they simultaneously share personal anecdotes in answers to intimate questions. The runners' vulnerability reminds me of what can happen when students on an Outward Bound course are willing to open up to their crew and share stories of life's joys and difficulties. 
Podcasts
Dirtbag Diaries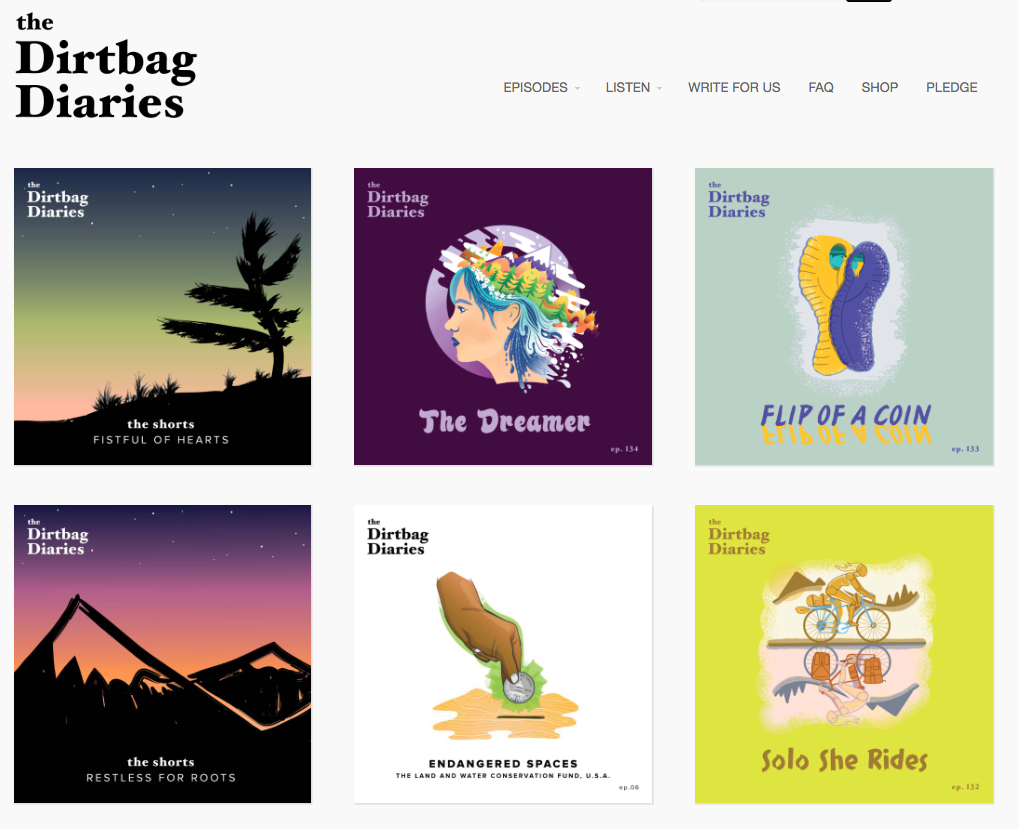 Many outdoor enthusiasts are familiar with the Dirtbag Diaries, a podcast with over 250 episodes "dedicated to the sometimes serious, often humorous stories from wild places." In a recent episode, they follow the incredible stories of two women cyclists.
The first story is about Amie Begg. She's a climber, skydiver and kayaker. After getting back into cycling, Amie decided to cycle the Friendship Highway, a fairly new road in the Himalayas that runs from Shigatse to Everest Base Camp at 16,500 feet. She recalls enduring freezing temperatures, bike trouble and self-doubt. The second story is about Jessica Kelley—a solo backpacker, endurance trail runner and lover of the Alaska wilderness. As a recipient of the 2018 Kyle Dempster Solo Adventure Award, Jessica mapped a 1,350 mile solo bikepacking and packrafting loop through the Yukon River back to Anchorage. Along the way she recalls feeling the absence of her family who waited for her at the finish line. 
This episode is inspiring as you'll follow "the challenges they face–from negative 20 degree temperatures to near-collisions with moose–while both women find new perspective on what it means to adventure alone."
Listen to Dirtbag Diaries here.
Backpacking & Blisters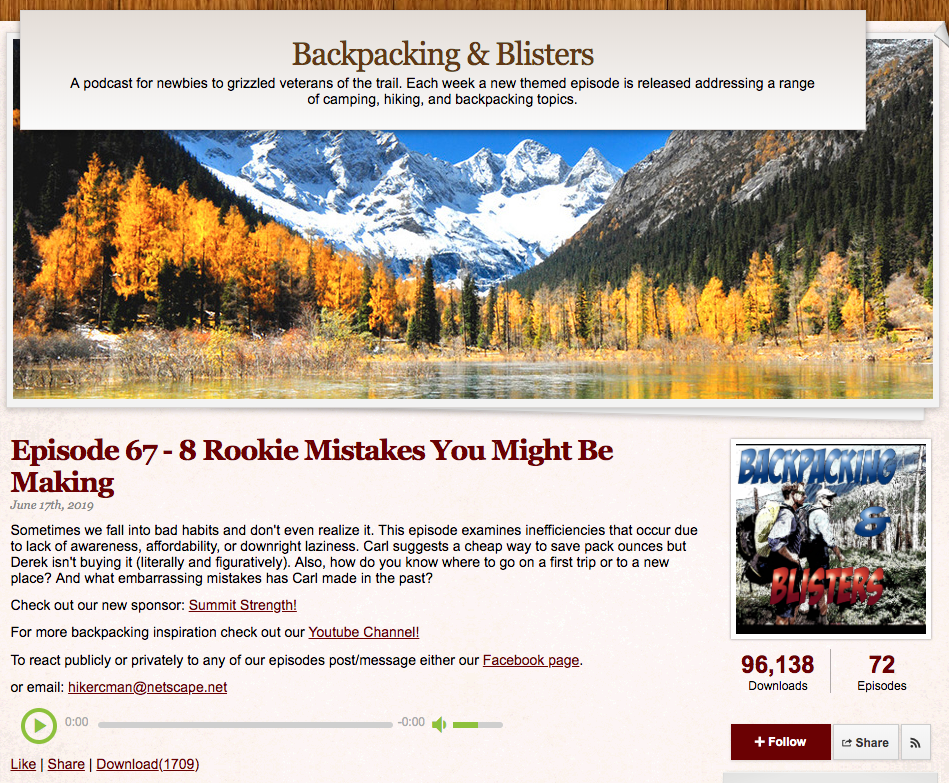 Both backpacking newbies and veterans can benefit from this podcast, as hosts Derek and Carl talk about everything backpacking. In a recent episode, they talk about methods for keeping your pack contents dry, choosing items for function rather than weight and purchasing packs in stores versus online. 
Listen to Backpacking & Blisters here.
The Firn Line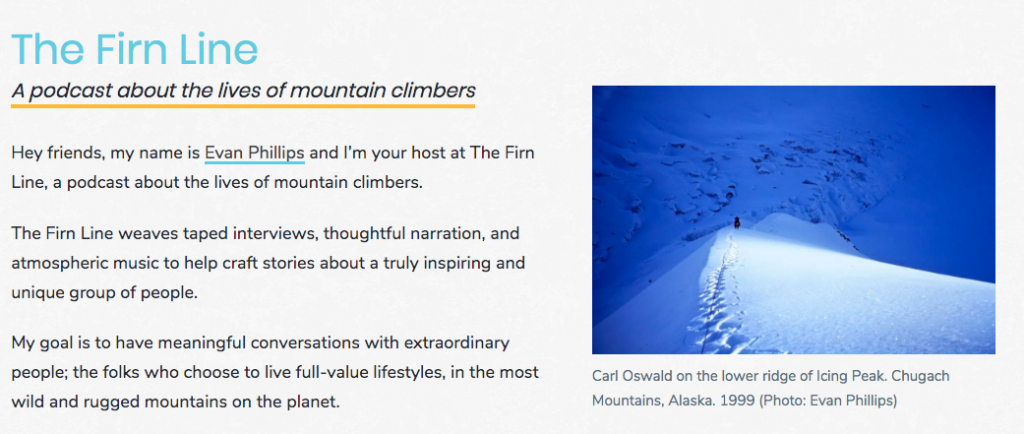 Here's a podcast to get inspired by; it's about the lives of mountain climbers and stories of interesting people doing amazing things across the globe.
In this episode of The Firm Line, Evan Phillips talks to lifelong Alaskan Caroline Van Hemert who recently authored her first book, The Sun Is A Compass (which may please fans of Cheryl Strayed's Wild). In the book, Van Hemert chronicles her and her husband's road-less, trail-less, motor-less 4,000 mile journey from the rainforest in the Pacific Northwest to the Arctic coast of Alaska in March of 2012. 
On Being with Krista Tippett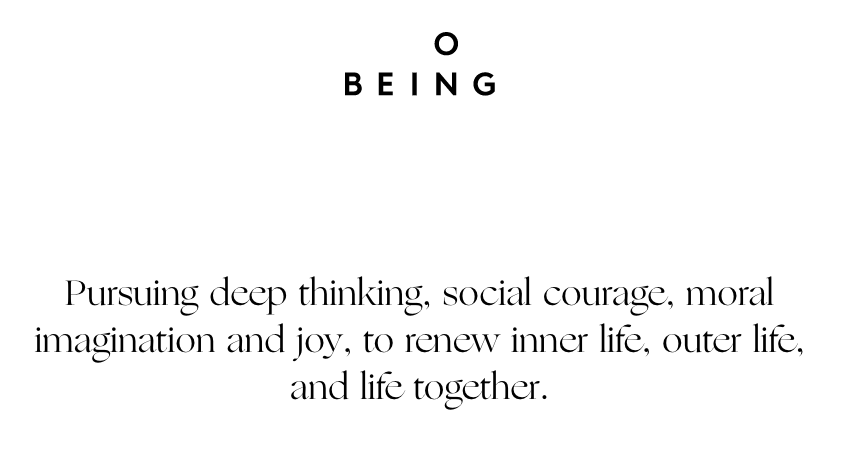 On Being is a podcast that attempts to answer the question, "What does it mean to be human?" It will expand your perspective and help center you around what is meaningful in life.
In a recent episode, neuroscientist Richard Davidson spoke about compassion in the same way that it's cultivated on an Outward Bound expedition. "The reason I liken [compassion] to language," Davidson said, "is that we know that we come into the world with a biological propensity for language, but it requires that we be nurtured in a normal linguistic community for that propensity to be expressed. There are case studies of feral children who have been raised in the wild–they don't develop normal language. And so even though there's a biological propensity, it requires this context–the appropriate context–to nurture it. I think the same is true for kindness. I think we come into the world with this innate propensity, but for this propensity to be expressed, it requires nurturing. So if we're in a context where people are 'doing' kindness around us, we will osmotically absorb it and it will be nurtured."
Listen to On Being with Krista Tippett here.
For the Love of Climbing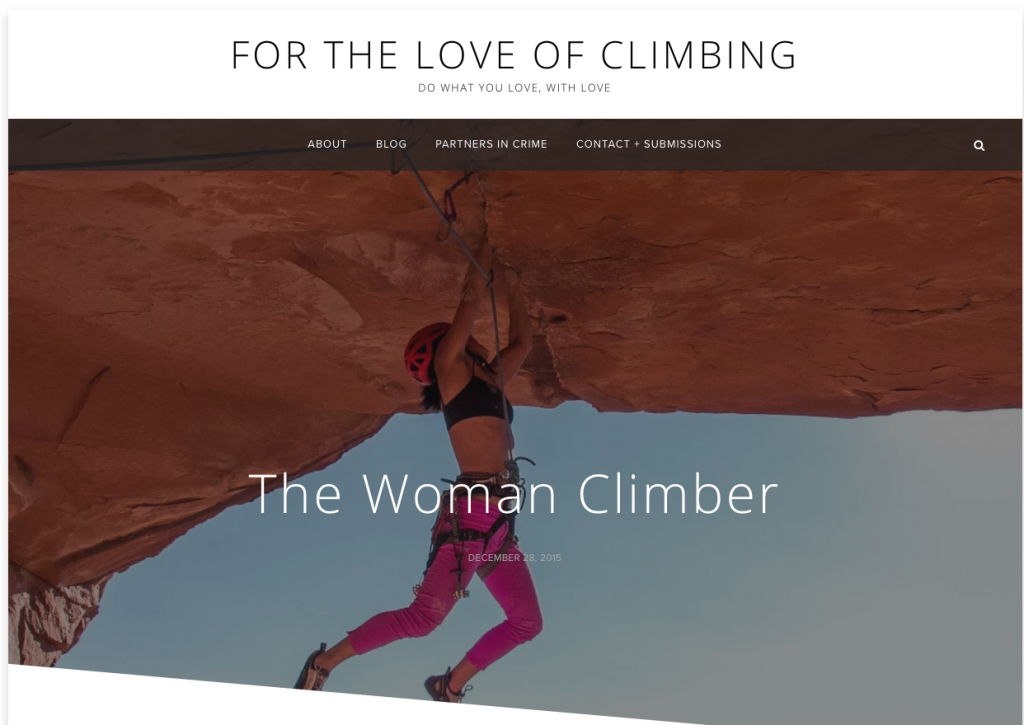 For the Love of Climbing "is a funny, sad, and somewhat uncomfortable podcast about choosing vulnerability and talking openly about our pain," says host Kathy Karlo. Kathy tackles difficult topics like suicide, eating disorders and addiction. It's kind of like Death, Sex, and Money for the outdoor industry. In this episode Kathy talks to Corey Mowry whose dad died by suicide in 2010. Their relationship was centered around the outdoors, especially when his dad started directing a summer camp. Kathy and Corey have a conversation about his dad, mental health, death and having a supportive community. 
Listen to For the Love of Climbing here.
What did we miss that are your favorites? Comment with any podcasts or short films you've loved recently—old or new!
About the Author
Olivia Schneider is a Logistics Coordinator at the Colorado Outward Bound School in Moab, Utah where she was previously the media intern. She is an alumnae of the Voyageur Outward Bound School, Hurricane Island Outward Bound School and has volunteered for the Philadelphia Outward Bound School. She loves dance parties, tennis, unplanned nourishing conversations, and being on a boat.