Canoeing - Where Only A Paddle Can Take You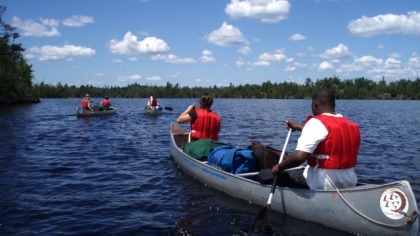 Voyage with your canoe through lakes and portage trails in some of the world's most pristine wilderness areas. You may also choose to leave the calm waters behind and instead take on a skills-intensive trip in highly responsive whitewater canoes. Learn to read the river with skill and intimacy and take your turn paddling your canoe through sections of whitewater rapids.
Canoeing skills. Water saftey. Campcraft. Navigation. Leave No Trace camping techniques. These are some of the skills you would expect to learn on an Outward Bound canoeing expedition and, indeed, you will. And at the end of your course you realize that the skills you've learned during your wilderness travels are also skills you need for life - taking on a challenge, leading with confidence, taking pride in your work, being a good steward of the environment and your community. You simply have to give it your best – and you'll likely find that your best is better than you ever imagined.
Please click here to sign up for our email newsletter, or use our Course Finder to search for canoeing camps and canoeing trips.