Florida Keys sailing expeditions explore the subtropical marine wilderness of Florida Bay, the Gulf of Mexico and may venture as far as the remote reaches of the Everglades. This 6-day journey is an opportunity for those seeking a fresh challenge in a unique marine environment and an intense team setting. Our 30-foot open sailboat serves as both home and classroom. In a phased teaching progression, instructors will introduce beginning, intermediate and advanced skills in chart and compass navigation, small boat seamanship, weather observation, and anchoring. Regular group discussions allow for reflection on each day's progress, and ensure that leadership and onboard responsibilities are shared so that every crew member is integral to planning the next day. Through living and working closely together, students learn far more than seamanship. The habits learned and strengthened through this sailing expedition will serve students for life, and for whatever challenge is next.
Veterans Expeditions
Veterans expeditions provide a structured time and place to build camaraderie, outdoors skills, and personal growth. As they improve communication skills, establish trust, and validate experiences among other veterans, participants experience increases in sense of self-worth, sense of purpose and sense of achievement, all in a non-military setting. Designed to facilitate a unique and exciting environment for veterans to reflect, share insights, and live in the present moment, the focus of these programs is around shared experiences and reconnecting with the sense of camaraderie and teamwork veterans and active duty service men and women experienced overseas. Although each expedition is unique, certain key components are a part of every Veterans expedition. The expedition begins with hands-on, progressive training in a variety of expedition and personal skills. The idea that participants are "crew, not passengers" is central to the Outward Bound learning approach.
As they learn to cook, sleep, stay warm, navigate and select routes together, participants create a positive, inclusive, supportive group dynamic. Throughout the expedition, participants build, practice, and reflect on skills, and tackle new challenges together - rock climbing, a peak ascent or a big whitewater day - that pushes them to rediscover the strength and peace of mind to navigate the often difficult transition to civilian life.
Sailing
Our traditional 30-foot sailboats encourage teamwork and leadership like no other classroom. On an open boat with no cabin and no engine, students live closely together using only wind and oars as propulsion. As they rotate responsibilities during this expedition, students learn the crafts of maneuvering under sail, coastal navigation, rowing and living aboard a small open boat. At night, students sleep on deck under a tarp, taking turns at anchor watch under brilliant night skies.
Students will learn:
to adjust sails properly for sailing at different angles to the wind, and to execute sailing maneuvers like tacking and gybing, which turn the boat through the wind.
to navigate using a chart and compass to arrive accurately at the day's destination, using techniques that include taking bearings, dead reckoning, triangulation and sounding.
to move the boat under oars, coordinating all of the rowers' movements so that the oars splash as one, and precisely maneuvering in and out of secluded anchorages.
to live (cook, eat, sleep, work and learn) as a team aboard a small open sailboat.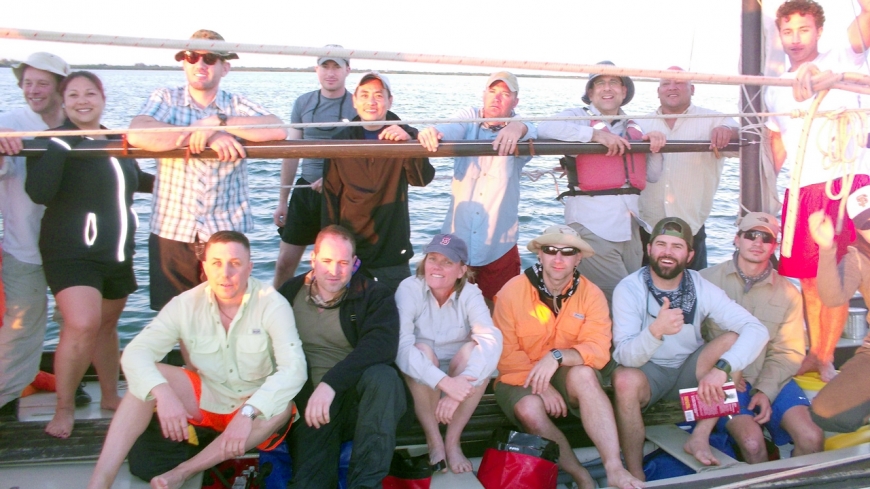 Course Area
The Florida Keys, home to numerous birds and abundant marine life, is rich with the confluence of water flowing out of the Everglades into inner Florida Bay and the Gulf of Mexico. The waterways are shallow and intricate, providing an exciting cruising area for our nimble sailboats. Sailing courses will cruise in three general areas. Winding channels through the backcountry offer challenging shoal draft navigation and the opportunity to explore mangrove keys, grassy tidal flats and coral "patch" reefs. The Atlantic side offers open water sailing and, if the wind is calm enough, excellent snorkeling at the outer reefs. Turquoise waters, warm temperatures and prevailing easterly winds provide exceptional sailing, both day and night.