This 14-day Patagonia Service and Backpacking course is a unique expedition that combines the adventure of backpacking in the Andes and the cross-cultural experience of working alongside indigenous populations to complete service projects. During this course participants will learn about traveling in the varied terrain of the oldest national park in Argentina, the Nahuel Huapi. Here they will hike past volcanic rocks, deep, clear lakes, and flora and fauna of a temperate forest. While on expedition the crew will learn outdoor travel skills like cooking in the backcountry, setting-up camp, Leave No Trace principles and safety techniques.
Students will also complete a series of service projects along the way where they will discover there is much to learn from the local populations' strong cultural traditions of a simple lifestyle, emphasis on family, close ties to the earth and the natural reward of working with your hands. After some long, challenging days, students will be rewarded with a huge sense of accomplishment and memories that will last a lifetime.
Classic Courses
Outward Bound Classic expeditions traverse some of the wildest, most rugged, awe-inspiring landscapes in the world. Our students work for every technicolor sunset; every super-fresh morning; every breathtaking vista. And when they arrive at their destination, and pause to take it all in, they know, without a doubt, that they earned their place there. By the time they finally drift to sleep, our students have put in a full day of moving their bodies, learning, cooperating as a team, puzzling through problems, and digging deep to find what really lies within – always, inevitably, more than they know.
Although each expedition is unique, certain key components are a part of every Outward Bound Classic Expedition. The expedition begins with hands-on, progressive training in a variety of expedition and personal skills. As students learn to cook, sleep, stay warm, navigate and select routes together, crew members not only do their part; they also take turns leading and following. The idea that students are "crew, not passengers" is central to the Outward Bound learning approach. Wilderness living does not encourage students to contribute to the group; it requires it. After all, on an Outward Bound expedition, awareness of others is not optional; it is necessary for success.
Throughout the expedition, students build, practice, and reflect on skills, conduct service projects and also tackle at least one challenge element - rock climbing, a peak ascent or a big whitewater day - that pushes them to find undiscovered strength. During the expedition's final phase, students experience a rare gift and highlight of the course: time to think and reflect on the Solo. With sufficient food, equipment and skills, individuals spend three hours to three days alone at an assigned campsite – with Instructors periodically checking in on them. As the course nears the end, Instructors may gradually transfer leadership responsibilities to the students, culminating with a Final Expedition. During the Final Expedition, students work as a team and utilize the skills they have acquired to solve problems and make group decisions, while Instructors maintain overall risk-management for the group with check-ins and advanced scouting.
Backpacking
During the backpacking portion of this course students will travel through the Nahuel Huapi National Park and can expect to complete an alpine expedition with elevation shifts between 2,500 and 8,000 feet. Instructors will teach participants about map and compass navigation, expedition planning, first aid, emergency procedures, weather forecasting and how to minimize the impact on the land by using Leave No Trace techniques. After practicing these skills, the Instructors will step back and let the crew work together to collectively navigate through the wilderness.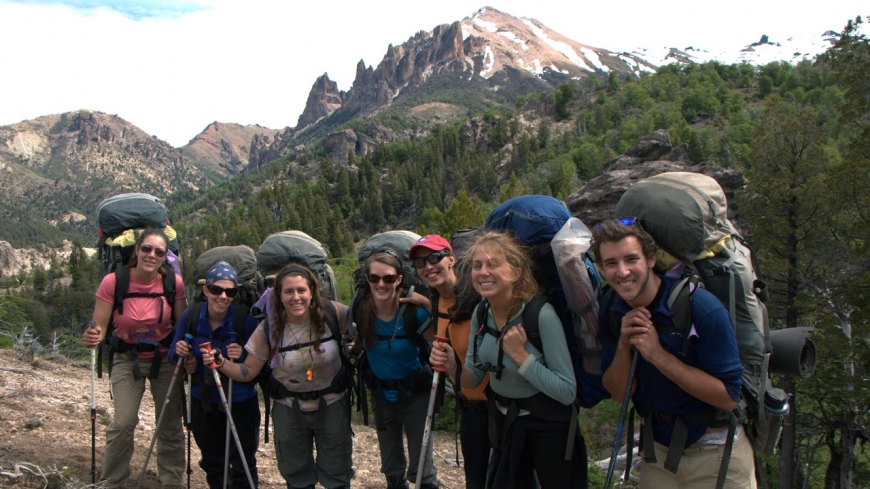 service
Service projects for this course are ever changing and may include such activities as, building fences, painting homes, harvesting fruit and building structures with local farmers. Participants can receive service project credit for going on this course and simply need to alert their instructors prior to the course start.
Course Area
Patagonia, South America
One of the least populated regions in the world, Patagonia is a semi-arid plateau that covers over 250,000 square miles in South America located mainly in Argentina but extending partially into southern Chile. Patagonia's unusual wildlife has attracted many scientific expeditions over hundreds of years, including those of Charles Darwin. The terrain is incredibly diverse with snow-covered volcanic peaks flanked by glaciers, ice slopes and permanent snowfields. The Patagonian steppe is one of the windiest and driest climates in South America, a sharp contrast to the western slopes of the Andes that receive some of the highest rainfall of anywhere in the world.
This course begins in San Carlos de Bariloche, usually known as Bariloche. The city of Barioche (population 108,205) is situated in the foothills of the Andes on the southern shores of Nahuel Huapi Lake and is surrounded by the Nahuel Huapi National Park. The park was established in 1934, and is the oldest national park in Argentina and the largest in the region with an area of nearly 2 million acres. Its landscapes represent the north Patagonian Andean Zone which is dominated by the high mountain chain of the Andes, many lakes and rivers, waterfalls, snow-clad peaks, glaciers and extensive forests.
Getting Started
If you are ready to enroll on a course click the enroll button next to the course you wish to select or you can enroll over the phone by speaking with one of our Admissions Advisors (toll-free) at 866-467-7651.
To secure your spot on a course you must submit an enrollment form and $500 deposit that is applied toward the total cost of the course and includes a $150 non-refundable enrollment processing fee. Click here to learn more about the complete enrollment process.