Happy 11th Birthday National Get Outdoors Day!
As an outdoor educator, I have been guiding and instructing meaningful adventures in our open spaces for the past eight years. I like to think that I live every day like it's "Get Outdoors Day," but I know that the rest of the world probably doesn't. That's why National Get Outdoors Day, started as a way to connect everyone, especially our youth, to our wild spaces, is so important. Here are 10 ways you, and your friends and family can enjoy our public lands.
Take a Hike
Hiking is statistically shown to reduce depression, improve your quality of sleep and increase your intake of "vitamin joy."
Don't know where to hike? You can find hikes in your local area, rated easy for families with young children and difficult for folks hoping for a challenge. The websites listed below allow you to search or filter by length in time or miles and location. They even provide excellent information about a hike's natural features—whether you'll see a waterfall, follow a creek or come across wildflower meadows.
Hiking Project:

https://www.hikingproject.com

All Trails:

https://www.alltrails.com
Journal Under the Shade of a Tree
At Outward Bound we believe that true learning comes from reflection, which is why some amount of alone time in nature is so important. While an Outward Bound trip is an amazing setting to have a solo wilderness experience, you don't have to go that far to get similar results. Find the shade of a tree, set up a blanket and let the thoughts flow.
Swim in a Free-Flowing River
Not only is Get Outdoors Day on our minds, but so is the Wild and Scenic River Act. It was passed in 1968 to protect sections of river that have a significant cultural, biological, wildlife, and scenic value and are protected from development or industrialization. These rivers have limited road access, and no impoundments from dams.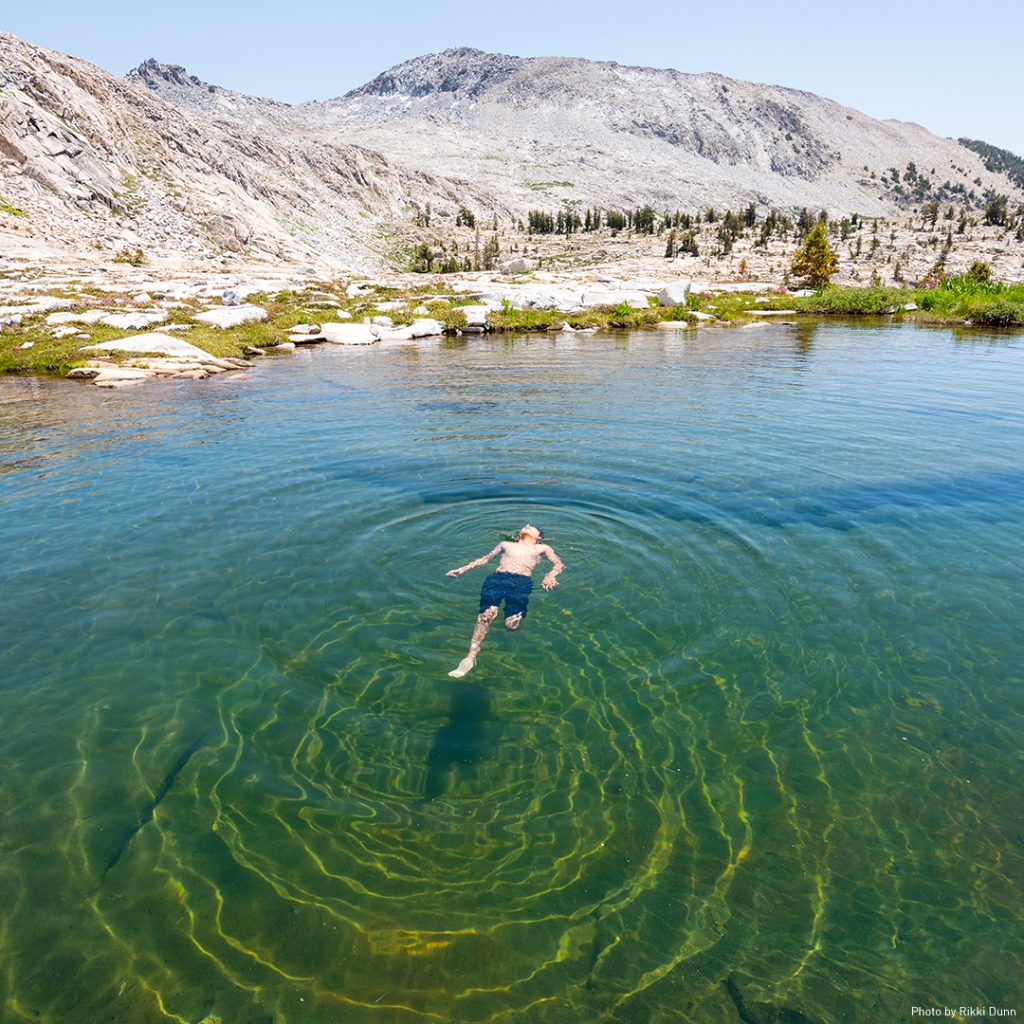 Volunteer in a Community Garden
I hear my grandparents complain that my generation is always on their smartphones, and I can't really argue with that. We can't be on our smartphones while wielding a trowel to dig out a stubborn weed. Seek out your community garden, meet your neighbors and cultivate a flower or vegetable garden that nourishes the body and the soul.
Get Lost in the Night Sky
Sometimes, my students see the stars in the night sky for the first time on our Outward Bound expeditions! Most community, state and national parks provide this same opportunity through stargazing clubs and outings. You can even find local observatories to see the night sky closer than with the naked eye. Get more information here: http://www.go-astronomy.com/observatories.htm
Build a Fort
Unleash your inner child and build a fort out of whatever natural materials you can find. Just remember, make sure it is "dead and down" when you're finished playing so no plants or humans are hurt in your adventure.
Nap in a Meadow
This activity isn't just for the Sound of Music, Tom Sawyer or Twilight. Napping in a meadow, not a lawn, full of wildflowers on a bluebird day is nothing short of magical. I once led an outdoor education trip where the school had requested that we forgo most of our planned lessons to spend the entire day in the closest sub-alpine meadow. Needless to say, there's value in the stillness and observation of a single place that we otherwise may have passed on by.
Forage for a Snack
A lot of people will tell you it's not a good idea to eat wild food. However, with a little preparation, study and referencing of a field guide, you can safely eat the bounty of the natural world. June is the start of berry season, and strawberries are ready first for picking. Luckily, they are easy to identify and grow along trails that are well drained in temperate climates. On the West Coast, I love eating Sorel, Nasturtiums, and Miner's Lettuce this time of year!
Visit a Town, State or National Park
Our public lands are our legacy. One of the best ways to directly show support for public lands is to visit the park you most love or want to get to know. The best advice I can give for a first time visitor is to hit the trail and get out of the car if you can.
Unsure of where the nearest park or accessible parcel of public land is to you? Check out this website to find your park, and get out there! https://findyourpark.com/your-parks
Sponsor a Child's Outdoor Adventure
When I first got into the outdoor education career path I read "Last Child in the Woods," by Richard Louv. I was mesmerized. He said almost all the things my idealistic brain was thinking in my early 20s. Now, almost 10 years later, I still reference my ear-marked copy of his book. Our children will inherit this planet and what better way to ensure a proper attachment to it then by introducing them to a world beyond the television. Unfortunately, not everyone can get to a natural space that they feel connected to, and everyone deserves a chance to experience that connection. At Outward Bound we offer scholarships to students who otherwise couldn't afford an expedition. We aren't the only organization to do this, and there are plenty of nonprofits out there doing similar work. Find one that speaks to you and consider making a donation in the name of Get Outdoors Day.
Still stumped? The good people who organize this event have curated a list of locations with official Get Outdoors Day events. Find an event near you and get outside! 
About the Author
Kate Samp is an Instructor for the Northwest Outward Bound School. She loves climbing mountains, yoga and whitewater rafting. She writes from her home in Bend, Oregon.