The numbers in this post correspond to the numbers on the provided map.  Please CTRL-Click on the map to view a larger version in a separate tab while you read along.
Map of the Northern Washington's Pasayten Wilderness with backpacking course route in red. CTRL-Click on the map to view a larger version in a separate tab.
1.  Favorite campsite of all time—a glorious bivouac.
2.  Navigated scree fields with half-full bowls of cereal.
3.  Just minutes from now, we'll traverse this slope with a million little switchback, breakfast finished, hands on the rock..
4.  Now we're finishing the breakfast we started on the peak.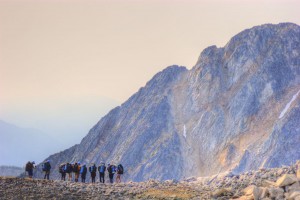 5.  Later on, the students will be on their Final and my Co-Instructor and I can sit back and watch the magic of group dynamics flowering into all the things that they'll become.  We promised them smooth sailing, but nobody's been in this part of the Pasayten for so long that there's very little information on the trail conditions.  I tell this to one of the girls who comes back to me, crying, asking if she really has to do this or not.  Turns out the trail is covered in the biggest mess of pickup sticks I've ever seen.  Turns out the trail crews are letting this area run wild in favor of more popular trails.  Turns out this is actually the quickest way out of here.  So the patrol sucks it up and makes up the difference in time, despite miles of tree pile roadblocks.
6.  They've had one major fight so far.  I was there for it and we talked it out.  Took hours and things are still…tender, but they're getting along well enough.  Solo helped.
7.  They'll have one more big fight.  Today, actually.  My Co and I will stand not ten feet from the trail where they all lay, exhausted, unsure, and afraid to trust their new skills.  Ten feet from the trail and miles away, obscured by dense young fir trees.  No idea we're so close.  They'll fight, cry, check out, check back in, and finally band together and boldly set off in the correct direction.  This will become one of my top teaching success moments of all time.
8.  Their first day was brutal.  Five thousand feet over the course of about four miles.  Their last day will be similar, but downhill, which you know—some people think it's worse.  I do.  Downhill hiking, that is.
But the views.  Always the views.  No matter where we were, I always felt like we were on top of the world.  Or at least a long way from it—the world.  Which is funny.  Because this is the real world.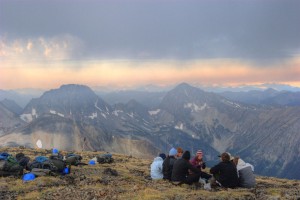 9.  There were cowboys, too.  Don't get that very often.  And an airfield.  Rumor has it that during the 50's, the US government put a couple of dudes in giant bulldozers and told them to drive through the forest until they hit the Canadian border.  Then they were to build an airfield capable of supporting US forces in repelling a Russian invasion over the North Pole and in through Canada.  So they did.  And now the cowboys hang out there during the summers and run a dude ranch, because, seriously?  Russian invasion?  Best part, though, is that it's a great place to meet a horse pack train full of food for our resupply.  While we wait, there's a cowboy long drop equipped with toilet paper and a very scenic spot to play horseshoes.  We shared the space with another patrol—part of the same course.
10.  Solo was amazing.  Everyone came back so refreshed.
11.  They'll have a lunch break.  So will we.  I will go to explore.  So will one member of the patrol.  He's going to scout the trail like we taught him.  Make sure they're on track.  We will run into each other, both startling the other, both respecting the distanced relationship that Finals has imposed on us.  Both treating the appearance of the other like a chance encounter with a deer.  Both accepting that we've scouted far enough.  Neither saying a word.
12.  Wild raspberries.
13.  Swimming.
14.  Mountain Bivouac.
15.  First snow sighting.
16.  Camp at a trail head.
17.  Portage water up a mountain.
18.  Swimming.
19.  Water from a spring.
20.  Late day, short of intended campsite.  Bivouac.  Make it up the next day.
21.  Worst mosquitoes of the trip.
22.  They'll leave pretty soon—disperse to all the points they come from.  The lightning shook me up quite a bit, but by the time they leave, I will have witnessed their progression through all the stages we are hoping to usher them through.  They're going to go home knowing everything I hope to teach them.  And more importantly, they're going to know everything they can teach each other.
The preceding was an account of WBN 641—a two week backpacking trip in Northern Washington's Pasayten Wilderness.
Read more about Pyar Anderson and see his comics at rockthetoilet.org.