Imagine you finally reached the end of a long day hiking in the San Juan Mountains in the Colorado Rockies. You marched up and down switchbacks, overpasses and persevered through an afternoon thunderstorm. Now, the sky has cleared and you're in a beautiful alpine meadow surrounded by towering peaks and a smattering of shooting stars and marsh marigolds bathed in the late afternoon glow. Sitting there collapsed in a heap on top of your pack, you're so exhausted you barely notice your surroundings. However, through your half-shut eyes, you do get a glimpse of your Outward Bound Instructor walking towards you purposefully, and you know what they are about to say: "EGGS!"
Navigating life in the pandemic has been hard on everyone. Especially those struggling to meet their basic needs, those who have lost family members or loved ones, or those who have no outlet to escape their indoor living spaces. That said, over the past months, I adopted some methods from instructing Outward Bound courses that have helped me deal with the feelings of isolation and sadness that have often accompanied quarantine. Eggs is one of those tools.
The Acronym "EGGS"
EGGS is an acronym that helps remind students what to do when they get to camp. It stands for: essentials, group, group, self. On a course, 'essentials' refers to the idea that each student should take care of their most fundamental needs before setting up camp. Essentials include things like putting on a warm layer or getting a drink of water. Contrary to popular student belief, essentials do not include doing a wholesale outfit change, going to the bathroom with three friends for half an hour, or pretending to tie your shoes while your group mates set up your tarp.
Essentials
During the pandemic, I've become more clear about my definition of essentials in my everyday life. When I'm not instructing at Outward Bound, I work as the Dean of Experiential Learning at a small boarding school in California called the Midland School. We ran a successful in-person term this Fall, which required a tremendous amount of effort from all of our faculty, staff and students to adapt to the safety requirements of managing the risk of COVID-19 spreading on-campus. The work was seemingly endless, as it is for many of us during the pandemic working remotely or living at our place of work. For me, my essentials are pretty simple: get enough sleep, run most days and eat healthy food. If I do these things, I know I can come to work every day able to care for others in my community and in my life.
Group, Group
That brings us to the next two letters, each of which stands for 'group.' At Outward Bound, the first group means to get all of your group gear and food out of your pack, while the second group refers to pitching in to get the group shelters setup. On a course, we often use the mantra, "crew, not passengers," which is another way of reminding students that the expedition cannot be successful if any one student takes a back seat. In everyday life, the groups I'm most often reminded of are the colleagues and students I serve. Though I don't always understand everyone's unique struggles or point of view, I can strive to have compassion for others and imagine what it's like to walk in their shoes. It also means that once I've taken care of my essentials, I'm all hands on deck to meet others' needs.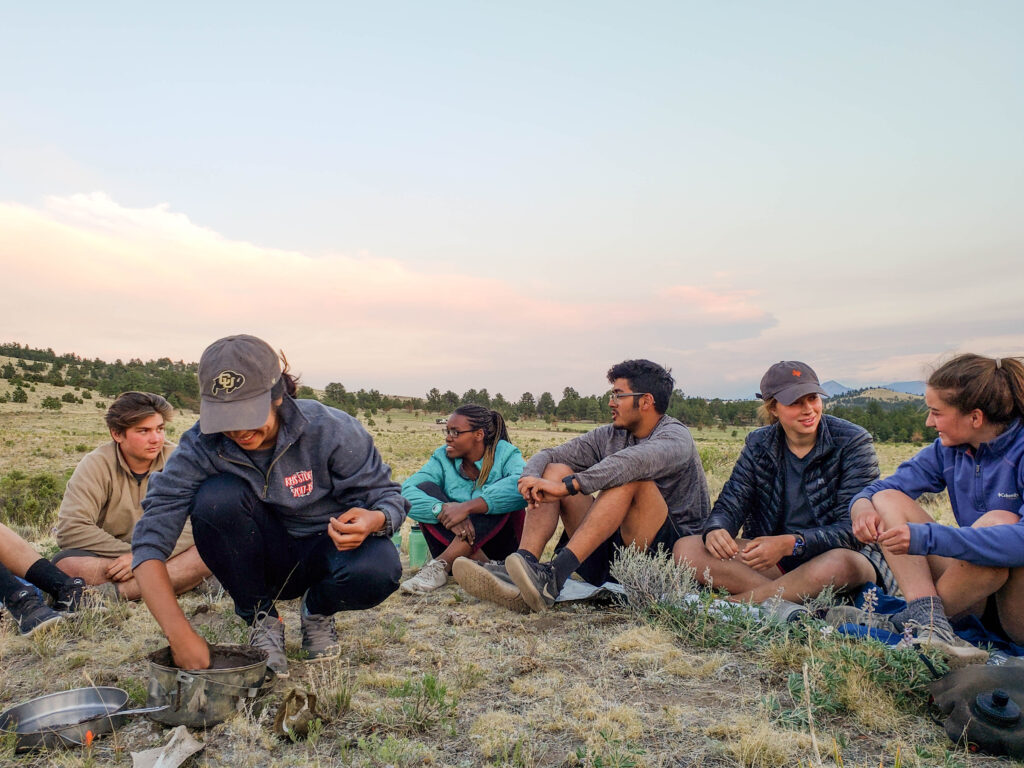 Self
Finally, we come to 'self'. It is last on purpose, but that doesn't mean it isn't important. While 'essentials' take care of our most fundamental needs, 'self' refers to doing the things that help us thrive. In the field, this means that after a student pitches in to support the group, they can take care of those things that will make them more comfortable and ready to take on the challenges of the coming days. That often means something simple like putting on a new clean t-shirt, hanging out with new friends, or digging into a snack bag. In my life, it isn't all that different. I nourish myself in similar ways during the pandemic—being sure to hang out with close friends, go rock climbing, read a book, or otherwise take the time I need to recharge.
This time of year offers a great opportunity for reflection. Though many people want to forget 2020 altogether, I encourage you to reflect on the following as there is much to learn from the challenges we've all overcome. What are the essentials for you? Are there groups you can serve? And how do you ensure you care for yourself so that you can take care of others around you? Let us know!
About the Author
Dan Susman is an Instructor at the Colorado Outward Bound School who loves running long distances, climbing rocks and playing with other people's dogs. While not instructing, Dan is the Dean of Experiential Learning at the Midland School outside of Santa Barbara, CA. His favorite thing to eat on an Outward Bound course is homemade pizza with wild foraged mushrooms. Dan received his bachelor's degree from Dartmouth College and has a Master of Education from Harvard University.