The excerpt below has been reprinted with permission from the book, Outward Bound Lessons to Live a Life of Leadership: To Serve, to Strive, and Not to Yield by Mark Brown, Berrett-Koehler Publishers, Inc. 2019.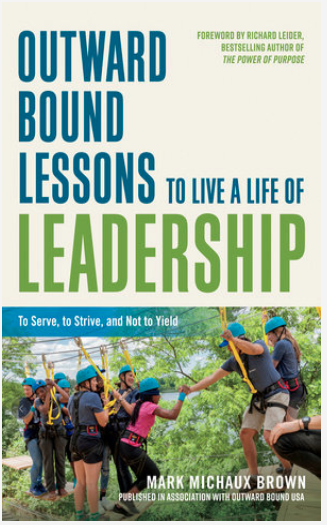 ***
As a participant on an Outward Bound course, Rue Mapp, the founder of Outdoor Afro, experienced a teachable moment that left an indelible mark on her life. "Even though I had a lot of nature experience, I didn't have any mountaineering experience," Rue said. "I felt I was in pretty good shape because I was riding my bike all of the time. I had a pretty active lifestyle. I thought I was going to be alright in that regard."
Outward Bound sends participants a list of clothing and equipment to bring on a wilderness trip. Rue decided that she didn't need one particular item that was recommended. 
"I didn't bring my headlamp because where I came from, we used flashlights," recalled Rue. "So why do I need a headlamp?"
Rue learned why she needed a headlamp fairly early on her Outward Bound trip, which was a mountaineering course in California. On one of her first evenings after a practice climb, the group was going to stay overnight on the rock. Rue had to go up first because she didn't have a headlamp. 
"I was really slow and scared. As I felt my way up, I was losing light on the other side of the mountain. About halfway up I couldn't really see anymore. I remember being terrified and feeling like I couldn't go through with it. I was crying and I was definitely at my end with it," she recounted.
Just when she felt like giving up, her Instructor leaned over and said, "Rue, just trust your feet."
"That was a very powerful moment that awakened something inside of me, that helped me to scramble to the top. I took that much later as a powerful lesson of having faith in yourself that you could dig in and you could go forward with what you have. What you have is enough."
Trusting your feet and not yielding to self-doubt. Rue has turned to that mantra again and again in her life and career. It became part of her leadership DNA as she began developing African American leaders across the United States.
"That was exactly the lesson that I needed to learn at the precipice of adulthood. I'm still trusting my feet. I am still having moments when I don't know what just happened, and I don't know what is going to happen, but I can still dig in and have that kind of faith. Trust your feet has been a living mantra for me. I don't always know where the path will lead me. I don't feel like I always have all the tools. Or the resources. Or the skills. But all of those things are available through belief and faith. That's what happened. That's what got me up that mountain."
That teachable moment has continued to get Rue up the mountains in her life ever since.
***
View and/or buy the book here.
About the Author
Mark Michaux Brown worked for 22 years as a field Instructor and program manager for Outward Bound, where he helped design some of the first leadership development programs used by hundreds of companies. He currently works as a master organizational coach and consultant, guiding people and organizations to thrive through change.