There are many ways to make good use of spring break, yet it's also easy for that unstructured time to slip away. How can you get away from the rigors of school or everyday life, have an adventure and rejuvenate? Outward Bound may be just what you're looking for.
Outward Bound offers short to long courses in the spring, which fits the schedule of many colleges and universities, and also allows adults to experience spring break. You might find yourself backpacking and rock climbing in the Blue Ridge mountains as spring unfolds, dog sledding and cross-country skiing in the crisp cold of the Boundary Waters, sailing in sunny Florida, canyoneering in the Southwest or backcountry skiing and snowboarding in the Rockies.
Let's spell out some reasons why Outward Bound can help you make the most of your time off:
B is for Break.
Just about everything on an Outward Bound course takes you away from the familiar. You'll find yourself surrounded by the natural world, away from books and studies, or your daily commute and spreadsheets. You'll be physically active, make new friends and learn new things, but not in a sit-down-classroom way. It's a break from the known, a chance to expand your comfort zone.
You'll also build a new skill set and explore themes like leadership, teamwork and problem solving. They are built into Outward Bound naturally, as you travel together and work out ways to be effective as a group, while having fun.
An Outward Bound course is an invigorating break from your school routine, academic studies or a break from work for those out of school. Our Spring Break expeditions are offered for ages ranging from 16+, 18+, 30+ and 45+.
R is for Reset.
Sometimes it's helpful to step back from daily life. Time to reset lets you put things in perspective and remember what's important. When you step out of your routine, you have a chance to look at your goals or concerns from a new angle and return refreshed and focused.
R is also for Rejuvenation. On any Outward Bound course, you'll explore new environments with interesting people, while doing challenging activities and living simply in the out-of-doors. Being outdoors is rejuvenating and will awaken your spirit.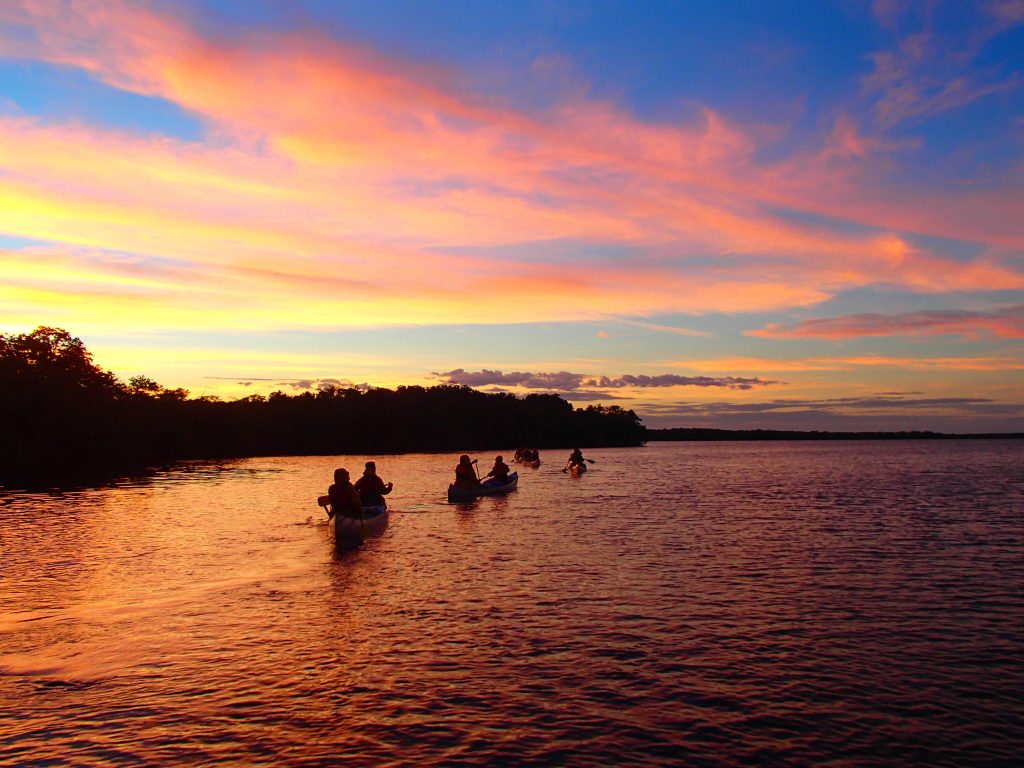 E is for Experience.
Instead of learning from books and computer screens, you'll learn new things by experience on your Outward Bound course. If you're rock climbing, you'll learn to tie the knots and safety systems along with techniques to move up a rock face. If you're learning winter sports like skiing, dog sledding or snowboarding, you'll learn how to stay warm in a winter environment, and plenty of tips on winter camping. While challenging, it's possible to be comfortable in the wilderness. Your Instructors will help you master the tools to take good care of yourself and others in your group. And you'll discover inner strength from the intensity of new challenges.
A is for Adventure.
Trying new activities in a new place with new people is a recipe for adventure! You'll have leaders who guide you as you develop the skills you need to safely navigate, whether kayaking in Ten Thousand Islands off the Florida coast, or canyoneering in the colorful Southwest. Through adventure and hard work you'll return to daily life ready for the rigors of the remainder of the year.
K is for Kurt Hahn, the founder of Outward Bound.
Hahn was an early and important figure in experiential education, the philosophy of learning through challenge and experience.
"I regard it as the foremost task of education to ensure the survival of these qualities: an enterprising curiosity, an undefeatable spirit, tenacity in pursuit, readiness for sensible self denial, and above all, compassion." – Kurt Hahn
Hahn, an innovator in the field of education, believed that "There is more to us than we know." By creating situations where individuals are challenged, and also have the support of a group, participants at Outward Bound are often surprised at their capabilities. And Hahn focused not only on the physical aspect of challenge, but encouraged young people to help others, and to nurture a sense of compassion and service to round out their education.
Outward Bound's four pillars follow its founder's philosophy: physical fitness, self reliance, craftsmanship and above all, compassion. On your course, you'll have opportunities to get in better shape, take care of yourself in a new environment, master new activities and be there for others as well.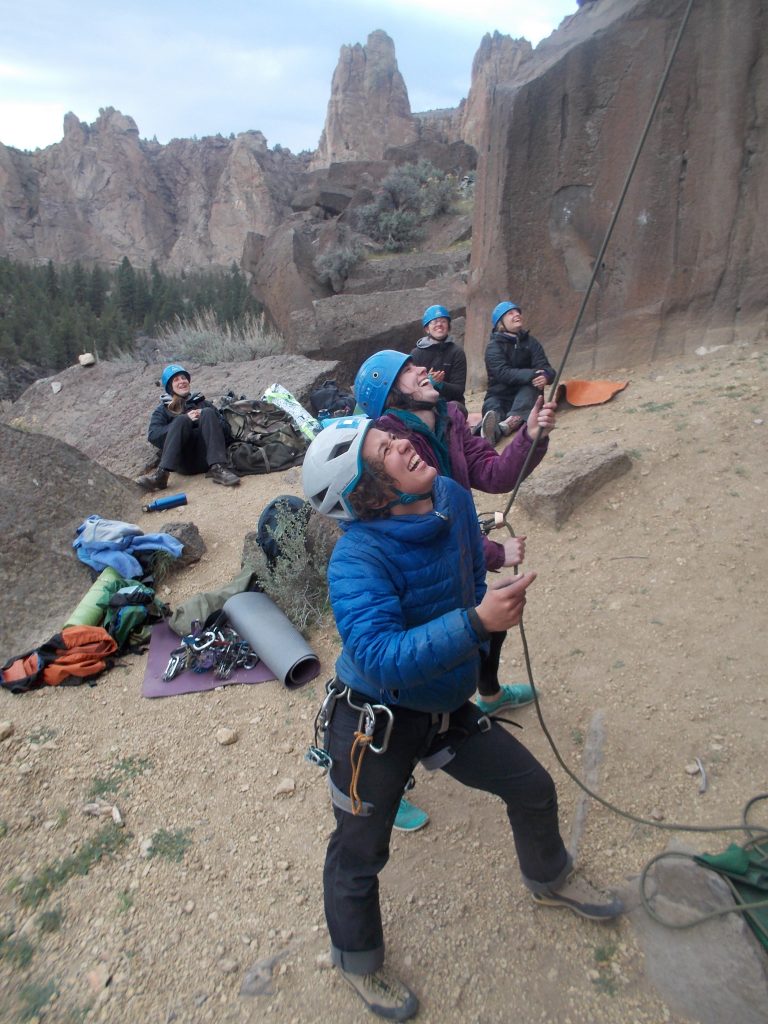 Tips for choosing a course:
Apply early, as courses fill up and you may be limited by dates.

Check dates on the list of courses. Which ones match the dates you are able to attend?
Consider location. What is the weather like in spring? Are you up for cold weather and snow, or would you prefer to be in a warmer environment?
Consider travel time. How much time will you need to spend traveling to get to the course? Is it realistic, given the timeframe you have available?
If you have a choice of dates, look at the activities offered. Consider choosing an activity that lets you stretch and learn something new. If you've rock climbed before, you might choose canyoneering, to build on something you've done before, or you could learn to sea kayak if you've never done it before.
Outward Bound Instructors teach skills from the beginning. You don't need to have any experience to attend. They'll start from the beginning and support you as you learn along the way.
Finding the Finances
It can be challenging to add the cost of Outward Bound to expenses you already have, so here are a few ideas that can help ease the financial burden.
If you are in college, ask your college or university about getting educational credit for your Outward Bound course. In some Schools, Outward Bound courses qualify for credit.
If your family has a 529 Educational fund to pay for your education, it may be possible to pay for the course with those funds.

Another way to take a course and make it gentle on your budget is to choose a program close to home or your school, so you don't spend a lot on getting there.

Did you know Outward Bound offers financial aid and scholarships? Aid is available based on need, motivation and awarded on a first-come, first-served basis by the Outward Bound School where your course is offered.  Take the time to explain your situation, in addition to providing required documentation.
As you consider how you'd like to spend spring break, consider a wilderness adventure with Outward Bound. With a variety of course offerings, there may be one that fits your schedule, and you can find yourself on an invigorating adventure (with plenty of good stories to share afterward!)
Find your Spring Break expedition here.
About the Author
CJ Wilson is a former Outward Bound Instructor who continues to find adventure in wild places, decades after her life "in the field." Her most recent adventures led her to Olympic National Park and Mount Rainier, where summer wildflowers induced a frenzy of photography. She writes from her basecamp in Asheville, NC.