Feeling welcome in the outdoors depends on many factors, including our relationship to place, people and experiences. Explore three ways to make your next campsite a welcoming place for all.
Setting out on an outdoor adventure, a crew leaves the comforts of home behind, only to re-build a place of comfort each night in a new place. On an Outward Bound expedition, we recognize that in order to feel ready to climb the next peak or sail through a crossing the following dawn, we have to have a comfortable and welcoming place to rest, connect and lay our heads.
Creating a welcoming environment that meets those social and emotional needs can feel daunting, but it can also be key to everyone feeling a sense of safety and belonging. Below are three ways Instructors and Outward Bound crews work together to make a simple campsite a place of comfort and rest while in the outdoors.
1. Shelter
Creating a strong, sturdy shelter is a top priority for all crews, but it often looks different depending on the mode of travel. Depending on the camping season and location of a course, students will either sleep in a tent, under a tarp or atop a sailboat! Recently, as part of a set of protocols in place to mitigate covid-19, many Outward Bound students have carried a personal shelter, which often looks like a one-person tarp with a bug net underneath.
On all expeditions, students become masters of setting up their own tarp as they learn and practice knots such as the bowline and trucker's hitch. Each student often carries an insulating pad, which is used as a cushion over a ground tarp, along with a sleeping bag and sometimes a secondary pad to create their portable bed.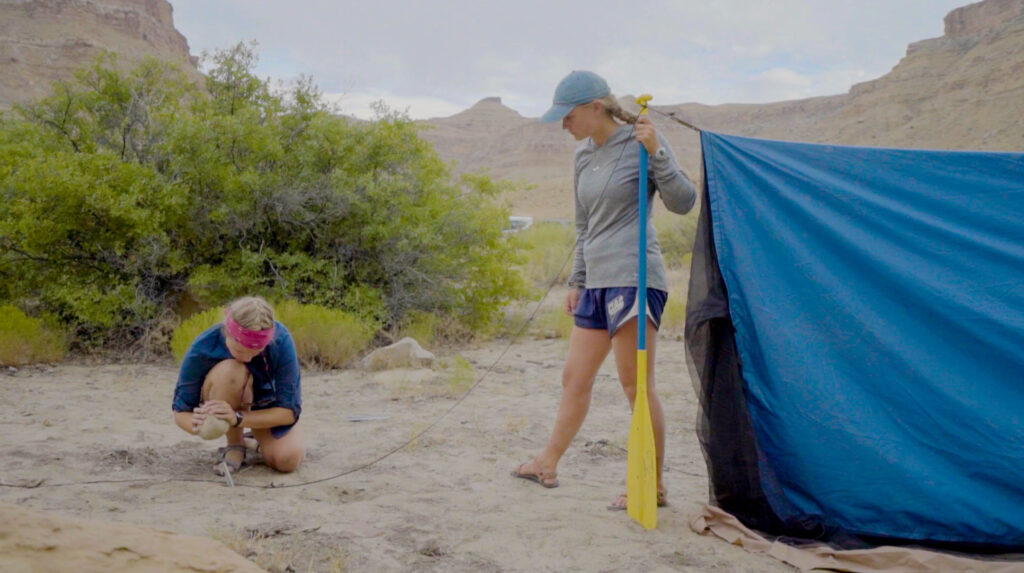 In previous years, students on sailing courses have slept head to toe atop the pulling boat while at anchor. This year, students may have the opportunity for new explorations by setting up a campsite and sleeping on the coast of islands. Tarps and tents are often placed nearby to allow for easy conversation, collaboration and camaraderie—a decision made by the collective crew.
In addition to learning the fundamentals, Instructors share their own wisdom on tips and tricks they've learned over the years on how to make a campsite shelter not only sturdy but warm and welcoming. Some of those pro-tips are:
Positioning your head on the uphill side of the shelter
Leaving shoes outside the shelter
Changing out of sweaty clothes, and keeping a set of dry clothes and socks inside of your sleeping bag
Tucking under a groundsheet to ensure no water enters and pools underneath a shelter
Doing push-ups or crunches on chillier nights to generate body heat before jumping into a sleeping bag, and having a warm hat and an extra layer at hand, as temperatures drop overnight
Keeping essential gear, such as a headlamp and whistle, in a consistent location within arm's reach
2. Circle-Up
In addition to crews creating a physical place of comfort, Instructors intentionally create space for activities that create an emotionally welcoming environment. The start of an Outward Bound course often includes an opportunity for a crew to set expectations of each other, including mutual respect, listening and positive regard. This foundation allows for crews to work through and process the challenges of an expedition.
Through evening meetings, crews have a chance to reflect on the day and the dynamics of the group and make plans for what's ahead. This might take the form of a go-around question that everyone has a chance to answer, an opportunity to share gratitude or space to take ownership. The evening meeting is also a time for a crew to share feedback with each other, including on how to make living arrangements on expedition more comfortable and inclusive.
After an evening meeting, a crew will often share in acts of nightly self-care such as checking for blisters, brushing teeth and doing a tick check. The evening might end with lighthearted rituals such as telling a story, reading a poem or singing a song before going to bed. Rituals can give a sense of comfort and clarity around bedtime, allowing crew members to feel safe and satisfied after a hard day of wilderness travel.
3. One-On-One Check-Ins
At several points in the course, Outward Bound Instructors make time to check-in with each student individually. Instructors are a sounding board for students, and no question or worry is too small! Sometimes, it feels daunting to express questions or doubts in front of a large group, so one-on-one check-ins create a welcoming chance to do so individually.
This can be an opportunity for students to share about dynamics in the group that may be bothering them and to resolve any discomforts they might have. It can be a more private opportunity to ask questions about making a home in the wilderness, including everything from sleeping arrangements within the group to pro-tips for waterproofing a shelter. Often, one-on-one check-ins also touch on students' goals and life beyond the course, in order to transfer skills and learning to a home environment.
Additionally, before coming on course, every student speaks to a Course Advisor. This is a great chance to ask any questions relating to life on an expedition. In an unknown environment, having a sense of what to expect can create a lot of reassurance.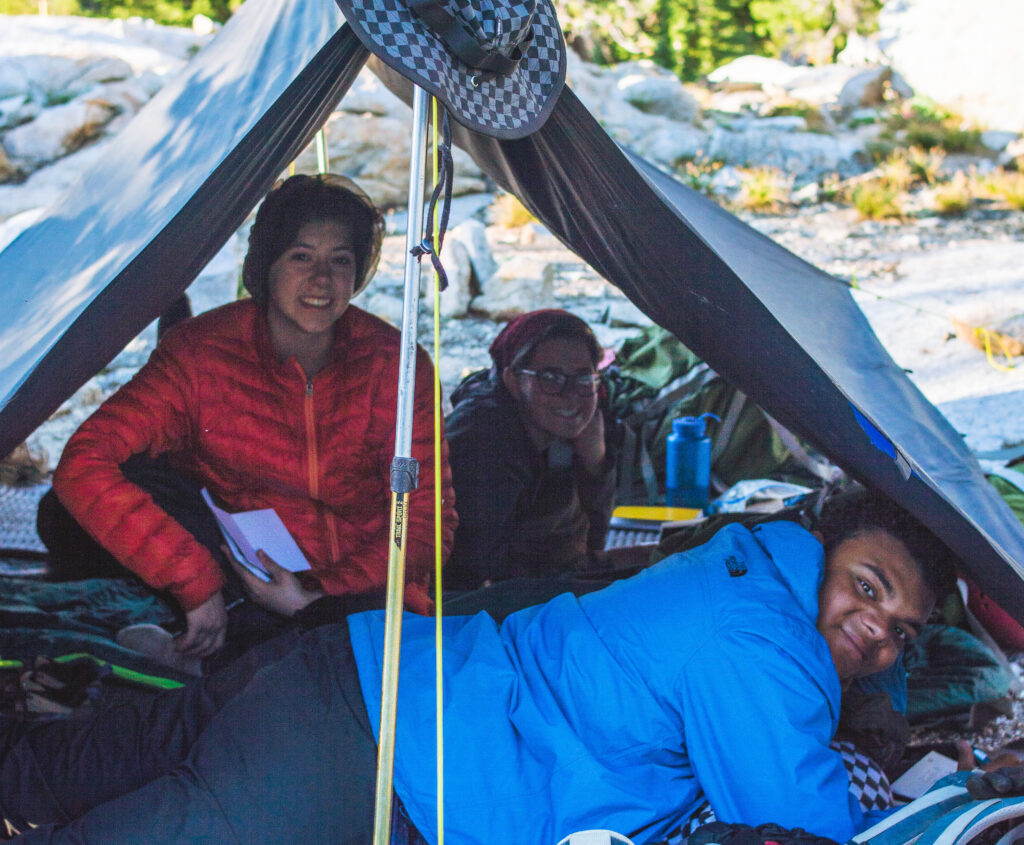 Creating A Profound Experience of Belonging
Having the sensation of feeling welcome in a wilderness environment depends on many factors, including our relationship to place, our relationship with our group, our previous experiences, the resources we carry with us to keep us prepared and the community of people staying home and looking out for our well-being while we are on an adventure. When an expedition comes together that makes it possible to create a place of welcome and comfort in a wilderness environment, this can bring a profound experience of belonging, with a long-lasting impact.
---
About the Author
Nora Spicer has instructed backpacking and canoeing courses at the Hurricane Island Outward Bound School since 2014. She has an MA in Environmental History from Harvard University and teaches Place-based US History (honoraspicer.com).