Change is challenging. We've experienced this firsthand as we've worked to combat COVID-19, requiring us to shift the ways we work, shop, travel, socialize and live our daily lives in order to protect ourselves and others. As we move to reopen our economies, we're again facing changes that remind me of one of the more challenging aspects of any Outward Bound course—transitions.
Transitions on a course signify the end of one section and the beginning of a new. For example, a crew may transition from a sea kayaking section to a backpacking section. Or it could be the significant transition when students return home from their Outward Bound experience. Regardless of when transitions occur, they're always challenging.
Many of the lessons we've learned, including the three outlined below, make these transitions easier and are directly applicable to the major changes we face as our world works to recover.
1. Have a Clear Vision
I've learned the hard way that transitions take a lot of planning and preparation in order to be smooth and successful. Transitioning from whitewater rafting to mountaineering requires a complete change of gear, restocking of food and the introduction of new tools and skills in order for the crew to function well together in a completely different environment. My most successful transitions on a course have been when my co-Instructors and I have taken the time to come up with detailed plans of what needs to get done and who is going to make it happen. It's always helpful to work closely with students to designate and assign jobs so that everyone knows what they need to do and how to make it happen. Communicating this plan ahead of time means that everyone functions as a cohesive unit and has a shared vision.
As we make moves to reopen our economies and return to a more familiar way of living, it's vital that we also have a clear vision of what that will look like. I encourage you to come up with a personal plan of what this transition will look like for you. I'm in the process of figuring out how to balance returning to work while ensuring my elderly father stays safe and supported at home. There are no easy answers right now, but it's been helpful for me to brainstorm possible options and outcomes. I also recommend contacting your elected officials to share your ideas and expectations regarding what you'd like to see happen as restrictions are relaxed. Finally, I encourage us all to stay up-to-date on important health guidelines and current events so that everyone is on the same page moving forward.
2. Work Together
Teamwork is essential to a successful transition on a course, and the same principle applies to our lives now. I've often given my crews pep talks where we discuss the value of "putting the group before self." Having felt personally pushed into survival mode these past few months, I can relate to the strong desire to prioritize my own basic needs. Yet it's important to remember the big picture and recognize that we're truly all in this together. Our actions directly impact others. As we return to work and our daily routines, I encourage everyone to maintain a collective compassionate mindset and continue to think about what you can do to help your community. How can you continue to be of service to others?
3. Take Time to Reflect
Kurt Hahn, founder of Outward Bound, believed reflection was a critical component of any learning experience. Students are often given time to reflect before major course transitions in order to look back on what they've experienced and what lessons may be valuable moving forward. In many ways, this pandemic can be viewed as a particularly painful and challenging section of our broader life "course." Our normal ways of life have been upended and our personal resolve tested to the breaking point. So many people have felt helpless, frustrated and/or forgotten. Yet as we make moves to return to business as usual, I urge us all to recognize the unique opportunity we have to reflect on what we've learned and the ways in which change is needed and necessary.
What has COVID-19 taught us? What lessons learned can we take forward, both on a personal and broader scale? What silver linings have we found in the face of challenge? Perhaps it's a renewed sense of community cultivated through shared rolls of toilet paper or Zoom calls. Maybe it's a deeper appreciation for our essential workers. Or perhaps it's a heightened awareness of the fatal flaws in our system that perpetuate cycles of privilege and injustice. Whatever it is you've gained through these unprecedented times, make sure you don't lose it in the frenzy of this upcoming transition.
On the brink of a course transition, I love sharing Danaan Parry's "The Parable of the Trapeze" with my students. Parry likens transitions to the feeling of leaping from one trapeze bar to another, describing these moments as the only place where real change can occur. "It can be terrifying. It can also be enlightening. Hurdling through the void, we just may learn to fly."
If we take time to reflect on all this crisis is teaching us, perhaps we won't simply return to life as we knew it. Instead, we have the potential to make real change happen and transition towards a more compassionate, equitable and healthy future where the lessons we've gained from this crisis better prepare us to take on future challenges.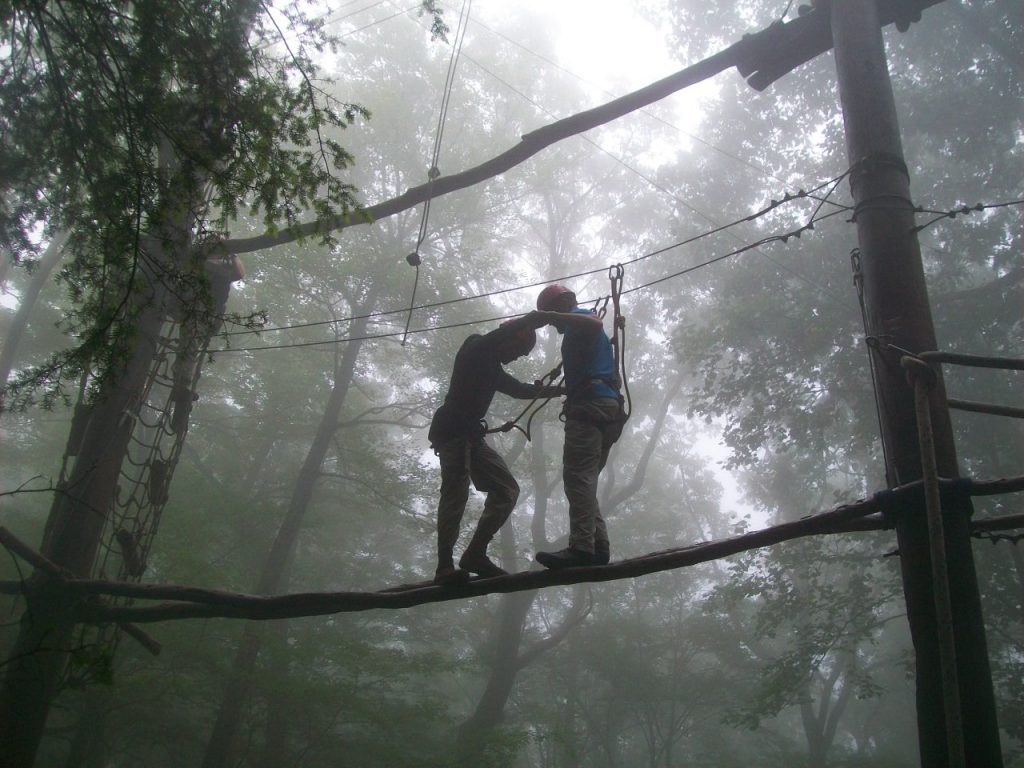 Cheers to learning to fly. Be well everyone.
About the Author
Ari Kosel is an Outward Bound Instructor in the Northwest. Her love of the outdoors was cultivated at a young age exploring the rivers and trails around her home dome of Mount Shasta. Top three things she loves on any adventure: dried mango, watercolors and Sriracha.