"Changing lives through challenge and discovery."
This is Outward Bound's mission and a statement that defined 2021 for me as I took on two new adventures—running the Leadville 100 Trail Run (LT100) and working as a Logistics Coordinator for Outward Bound in Colorado. The latter impacted the former more than I could ever imagine.
As I worked all summer from the Outward Bound Colorado basecamp, I trained my mind to believe in myself, my ability and my crew while I trained my body to run the long 100-mile distance through backcountry trails that the famous "Race Across The Sky" would require of me.
Below are small snapshots into my Leadville 100 race day. From mile one to 100, the values I walked away with, the lessons learned and the stories made possible by the support of my crew and the educational principles of Outward Bound. 
The Value of a Shared Experience
Pre-Race – Outward Bound Aid Station (23.5mi)
At Outward Bound, the foundation of experiential learning is largely a communal experience. We develop "family units" that are bonded together on an expedition that is weeks or months long and those bonds end up lasting lifetimes beyond course-end. My LT100 experience was no different.
The day I gained entry into the LT100, I invited all of my closest friends and family to join. The race was still nine months away, but I knew that one of my primary interests in the experience was to share it as an action-adventure reunion. Friends and family from far and wide came together to build a family unit as we sought to accomplish a goal and share the journey. It was a pleasure introducing my entire family unit to classic Outward Bound expedition rituals such as "Chow Circle" and "Evening Meeting" as we shared open-forum discussions, respect and gratitude.
Besides my own family and friends in attendance, one of the highlights of my race day was passing through the Outward Bound Aid Station. After a summer of building new connections, running through this line of boisterous friends and coworkers shouting encouragement and offering high fives was a very exciting experience!
Teamwork Makes the Dreamwork
Outward Bound Aid Station (23.5mi) – May Queen (87.5mi)
Just as an Outward Bound expedition takes a serious level of logistical planning and support, so does a 100-mile run. Where an Outward Bound expedition may have daily team leaders, journal-keepers, navigators and dinner crews, my LT100 team consisted of crew, pacers and spectators, each with their own objectives and responsibilities.
The crew was there for vital resupply at aid stations scattered throughout the race course. Pacers ran alongside me for emotional and physical support, in the form of "muling" (hauling supplies), and spectators were there, above all, to fuel the "hype machine." I've never heard, nor shouted, the word "YEAH!!" so much in my entire life as I did throughout the LT100!
The importance of each of these roles cannot be overstated. While Outward Bound courses can't run without the input of behind-the-scenes administrative and logistical support, I couldn't have run the LT100 without my entire team.
Setting Goals and Finding Compassion
May Queen (87.5mi) – Finish (100mi)
It was 5 am and for the second time in 24 hours, I was trotting around Turquoise Lake eagerly anticipating dawn and the renewed vigor that it brings. I was eight hours and 30+ miles beyond the longest time and distance that I'd ever previously attempted in a single go. The fatigue was heavy.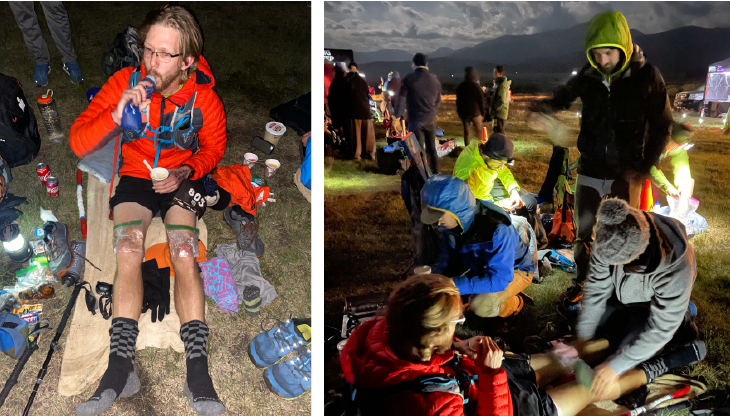 After a quick regrouping and resting at the aid station, it was time for me to get up and keep going. Zach, my third and final pacer of the day, helped get me rolling again out of the final aid station. We were on our way towards the finish line along the final section, a normally mellow but now-burly 12.5-mile jaunt around Turquoise Lake and uphill into the town of Leadville.  
"Think you can run?" Zach asks on a downhill part of the path around Turquoise. Frustration rung in my head. I was tired. I was walking. Zach was doing exactly what a good pacer should do, nudging me onward towards the goal. I trotted on, begrudgingly, silently.
Zach and I put in a handful of good miles before my bowels sidelined me unannounced. We sat together in the pines to the side of the trail, observing a handful of runners and pacers trot by in the pre-dawn.
"How much time do we have?"
An invisible and unrelenting imaginary cutoff wall had been chasing me silently, steadily at my back for the past 26 hours.
… "Enough."
Doing the math on our distance and time, we concluded that walking the remaining ~6 miles would get us into the finish line with time to spare before the final 30-hour cutoff race participants have to finish the course.
Determining Which Goal Means the Most
My mind flashed back through the goals I had set for myself – and shared with my team – before the race:
Finish. Enjoy. Appreciate the experience.

Fast time goal – sub-24 hours (less than one day)

Mid-time goal – sub-25 hours (earn a 

big

 belt buckle!)

Slow time goal – sub-30 hours (finish!)
As a runner, I'm well accustomed to setting arbitrary time goals. I think we all do it in various aspects of life, sometimes implicitly and sometimes explicitly. We have some understood baseline concept for what outcome is likely to happen along the continuum of "possible to probable." And based on our own aspirations, our interest in striving and our tolerance for suffering we decide what to aim for.
Sometimes there are very clear outcomes. For example, to run in the Boston Marathon, a runner in a certain age/gender bracket must run faster than a specific cutoff time in order to compete. But to simply appreciate and enjoy the experience of the LT100, goal setting becomes more ambiguous.
Certainly, finishing the race is high on the to-do list – less than half of the runners that start the race complete it on average. But now, in this crux moment on the course, I sense a branching decision tree. Do we keep pressing for a time goal at the cost of enjoyment, or do we acknowledge a great accomplishment regardless of the time and appreciate the remaining path ahead?
Embracing Self-Compassion
At mile 94, in the second dawn of this race, I chose to embrace self-compassion and acceptance.
Together, Zach and I acknowledged a strong effort to get through ninety-four miles in the manner achieved and we agreed to walk it home. At this point, the body and mind were completely done with running. And it was a peaceful release to recognize that we'd accomplished all we could and that it was enough to enjoy the walk home as the sun rose and warmed us. This transformation in outlook was fundamentally inspired by the educational principles of Outward Bound, and it is a recognition and acknowledgment that will stick with me for many years to come.
Those other arbitrary time goals could be set aside – they weren't where the real heart of the day's enjoyment and appreciation derived. The deep gratitude and joy of the experience were realized in traveling the path together, sharing a lifelong memory with loved ones and embracing personal growth through new challenge and discovery.
---
About the Author
Cullen is a Logistics Coordinator for the Colorado Outward Bound School with three big interests: Earth sustainability, interplanetary exploration and visual storytelling. As such, you might as likely find him aboard a scientific research vessel in the mid-Atlantic as in a rocket development hangar in central Texas. He lives minimally and on the go, with plans to continue solar-powered van life, trail ultra marathoning and outdoor education. You can see more of his work and photography at www.cullenwelch.com.