Whether you're a teacher, parent, facilitator or a student yourself, navigating remote learning can be difficult. Discover four ways everyone can play their part to create a fun, engaging learning environment for middle and high school students.
Let me bypass what we all know to be true—this year has not been easy. We are mapping out what virtual learning and working look like, and like anything new, it's been scary, stressful, but so important to continue to meet our work with a sense of purpose. 
Virtual learning seems simple but we all know it's far from it, bringing about numerous learning curves, distractions and complications for everyone involved. Face to face interaction is crucial for the positive development of youth because it fosters a sense of purpose and community. With such an important interaction as this lacking, we must pull our resources together as local communities to figure out what's best for ourselves, our teaching tendencies and the students we serve.
We as parents, guardians, mentors, educators and community members need to be prepared to help our students stay connected to themselves, their work and their friends. It's a group effort. They need our autonomy and support to find alternative ways to feel motivated when they are stuck in the confinements of their home.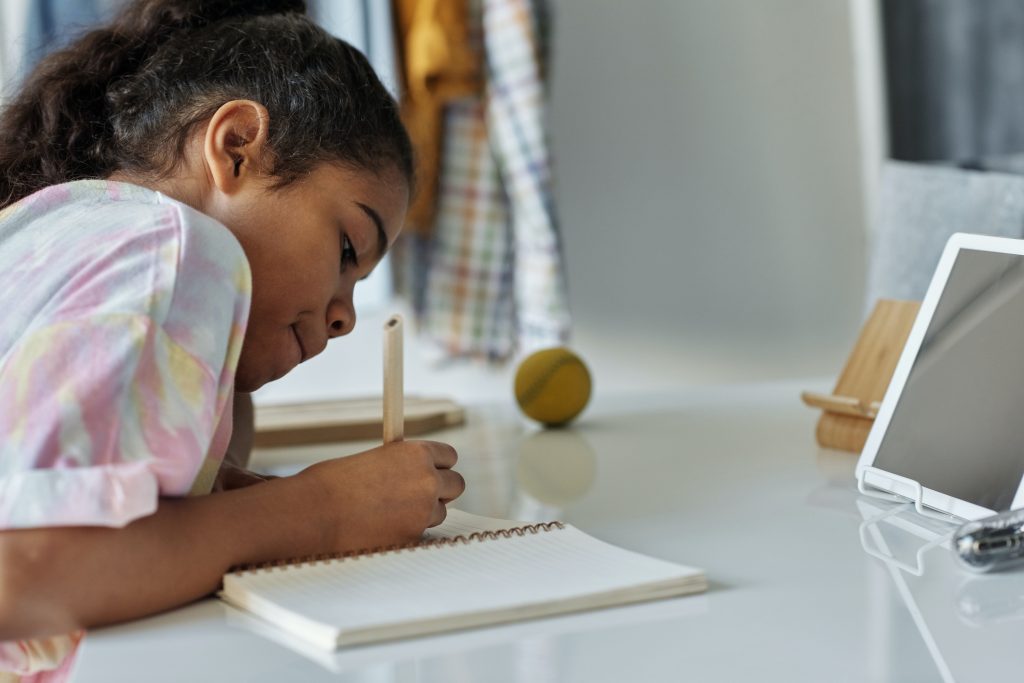 Everyone Must Take Part
On an Outward Bound Intercept course, when Instructors plan curriculum, route and educational skill progressions for students, they keep in mind what's best for the entire family unit. Yes, even though parents/guardians aren't a part of the wilderness expedition alongside their teenager, they are still doing their homework—just one is happening in the woods and the other is not. Everyone must take part in the experience because change can only happen if there is an effort put in on both ends.
After the wilderness expedition ends and families are reunited, Instructors take their time with both party's perspectives, working to build stronger relationships. Both the student and the parent/guardian leave the course feeling prepared with the tools they need to navigate bumps and milestones in the road ahead. Intercept programming is an experience that guarantees quality time away and then quality time together. 
The same is true for students today. They are experiencing time away from one another. Virtual learning with no gym, no cafeteria, and for many, no extracurriculars. This is an opportunity for us as educators and parents to help them create connections that teach them resilience, confidence and intentionality with their relationships and responsibilities. Connections that ensure the time they spend together in the future is appreciated and understood as the foundation of their education, especially after the months spent apart.
Outward Bound Online
I had the opportunity in these ever-changing times, as my job description as an Instructor continues to fluctuate, to take part in a virtual teaching training, facilitated by Dr. Gordon Grant, Education Director for North Carolina Outward Bound School, with the hopes that we can teach philosophy and facilitate an Outward Bound experience with partnering schools online. One hour of silliness, reflection, problem-solving and collaboration.
I logged into the training hesitant, but soon my worry faded and I was laughing harder than I had in days. I left feeling more connected to my co-workers and excited about the prospect of getting students laughing again too. What I was nervous about at first was a question I hadn't yet known the answer to—what exactly were we going to teach them? But that question quickly changed to, how exactly are we going to teach them? Then it struck me—we weren't going to. We must approach this way of education differently.
Virtual Learning: Strip Away the Formality
Teenagers need to be stripped of formality in their interactions and experiences while learning. What I meant when I said we weren't going to teach them is we weren't going to build a stringent and structured curriculum that could hinder creativity. I understood that my job as an outside educator and facilitator working with remote learners wasn't to exhaust them further with PowerPoint presentations or modules, but to just be me and to encourage them to do the same.
"What's the weirdest thing that's happened to you today?" After all, Outward Bound, while it's full of potential life-changing lessons, is also just a giggle fest. I was determined to make sure kids left their online virtual learning sessions having fun and feeling connected. Below are four ways you can do the same with your online learners.
1. Create an Unscripted, Unstructured Space
It was apparent among us as adult educators that we needed space to laugh and connect. It is the same with students. It's crucial virtual educators foster a space that allows students unscripted time to just be. The video conference call is now their cafeteria, their gym, their hallways and we need to provide a space for them to interact with one another as they would in those spaces. Maintaining friendships should be encouraged just as much as staying ahead in school. Looking at a screen all day can be draining, so as an educator ensuring that there is time set aside with no agenda will help them stay engaged, creative and connected.
Within the hour of the training, I broke a sweat running around my house gathering items that we as a team would use to survive on a desert island, took time to journal and got a better sense of what my coworkers and friends were doing to keep themselves grounded. I logged off feeling more connected to my colleagues and hopeful that students would feel the same.
2. Relate to the World Around Them
Outward Bound Instructors are no strangers to the power of transference when facilitating a lesson plan or counseling a student. It's at the core of our educational philosophy—"train through the sea, not for the sea." A saying that draws on the philosophy of Outward Bound's founder, Kurt Hahn. Dots connect in teenagers' brains when they conceptualize how portaging a canoe around a lake relates to the way they communicate to their teachers and parents back home.
The same can be true for teaching virtually. With the physical space of a classroom no longer a resource, it can be draining as a facilitator to create communal familiarity. But with any lesson plan, there are easy ways you can help students relate to the world around them. Ask them to look around the room or out the window, have them converse with their neighbor or family about something that was taught in class. Get them to draw connections between what they care about and what you are trying to teach. 
For example- if you're teaching world history, you could challenge them to find the oldest item in their house that's of family significance. This is a creative way to foster curiosity among students, get them moving and involve the entire family. They have the freedom to approach the assignment however they choose. Virtual learning requires students to take more initiative with their homework if what they are learning connects to something they care about at home. This will help them stay motivated and focused, and inspire them to continue pursuing what they are passionate about.
3. Get Creative With Local Resources
Reconfiguring what community means to us helps us figure out how we can support and sustain it. Everyone is a neighbor of a kid in school—you are needed right now to keep the spark alive in our youth. There are a variety of ways we can use our local resources to best support the academic and emotional needs of students during this time. 
Although the winter months are creeping in and we want to hunker down indoors, we can diversify the "at-home" classroom and move to different rooms, or in- and outdoors as needed. A change in scenery will give a boost of energy to any engagement. You could theme each room, invest in a fire pit, take breaks in between assignments or classes to do projects that you want to do around the house or your neighborhood. This will not only give the student time away from the screen but will work towards the betterment of the home or block. A neighbor can pass along some yard work for a teenager down the street- positively fulfilling their current lack of physical exercise that they may get on a sports team- while helping a neighbor, maybe (if they're lucky) making some money, all while socially distancing. 
We have to rely on one another to get through this—looking close to home is the answer. Students- take initiative to start study groups in the park or online. Parents- if you're struggling to balance work and proctoring your kid's schoolwork, confide in your neighbors and be honest with your kid about how virtual learning is affecting you. As a family, research and reach out to local libraries, non-profits, or community centers that may be offering support for families like yours. 
4. Volunteer
Invest in your community. This pandemic has only illuminated what was already there. We have the opportunity to engage in different ways and show up like never before. Local non-profits are looking for people like you. You can make a difference today in your community and do so safely. 
Teachers, parents, community advocates- consider making lists of volunteer opportunities for students and families with contact information ready to go. This could make it easier for first-time volunteers and those with busy schedules to feel more inclined to participate.
Students- ask for opportunities from your neighbors, mentors, and peers that interest you. This is the time to engage, broaden your horizons, and yes… potentially get out of the house for a bit (wearing a mask of course). This will make you a more thoughtful and present student, I promise you. 
I hope these tips mentioned above will help you brainstorm ways to find fulfilling ways to engage with virtual learners and continue to build community even when we are not physically together. And when we are, we can reunite upon a shared common goal that helps our future generation thrive and problem-solve through life's uncertainty—leaving it better and more justified than the way they found it. 
Before You Log off Tonight
Whether it be a virtual class or a dose of community engagement, ensure that your time was spent wisely and that you laughed, learned something new, felt fulfilled and more connected. If you're learning or teaching online, remember to take breaks, get up and out, stretch or walk, be honest with your peers and appreciate the little things you have in the comfort of your home.
Be courageous, ask for help when you need it, say thank you when you can, wave to your neighbor and continue to find ways to be inspired during these difficult times.
About the Author
Blaine Weiss is an outdoor Instructor who works primarily with the Intercept program of the North Carolina Outward Bound School. With a background in film and writing, she seizes the opportunity to fuse her interests in the creative arts with her love of the outdoors.